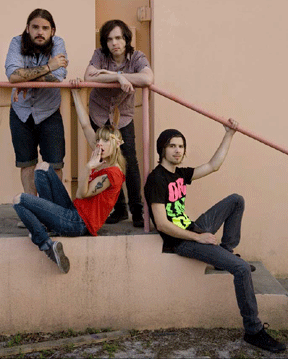 NEW YORK, NY – With the unfortunate cancellation of the last handful of dates on their current tour with The Graduate,  Automatic Loveletter  are anxious to hit the road again. Toting the band's recently released debut, Truth Or Dare, Juliet Simms and company have announced more tour dates supporting Valencia, Mercy Mercedes,  and Terrible Things.
 Truly a road warrior in every sense of the term, Juliet says, "I can't wait to get back out on tour with guns blazin'. Valencia has been a band I've wanted to tour with for a long time so I'm really excited."
After moving to Los Angeles from Tampa at 16, and signing to Sony by the age of 19, Automatic Loveletter has built a loyal following by releasing the Hot Topic exclusive Recover EP in 2008, and the 2009 self-titled iTunes EP. Touring relentlessly, Automatic Loveletter has shared the stage with  the likes of  Cute Is What We Aim For, Say Anything, and has had performances on the  Vans Warped Tour and both the Bamboozle festivals. Automatic Loveletter is Juliet Simms (rhythm guitar, vocals), Tommy Simms (guitar), Clint Fowler (bass) and Ryan Metcalf (drums). Truth or Dare was produced by Josh Abraham and the  lyrics profess confessions Simms' life struggles, relationship experiences, and feisty and spontaneous side.
Tour Dates:
Dec 14 Magic Stick Detroit, MI
Dec 15 Grog Shop Cleveland, OH
Dec 16 Eldolyn Terrace Altoona, PA
Dec 17 Trocadero Philadelphia, PA
Dec 18 The Palladium Worcester, MA
Dec 19 Highline Ballroom New York, NY
Tags:
Automatic Loveletter
,
Mercy Mercedes
,
Terrible Things
,
Valencia