As Cities Burn released their first new song in six years yesterday, titled "Prince of Planet Earth." The new music comes on the heels of the band's ten year anniversary tour announcement last week. The band also announced the supporting bands for the tour lineup yesterday. Joining the 10th anniversary tour for Son, I Loved You At Your Darkest will be Emery, Listener, and Foreign Sons.  Hear the new song and check out the tour details below.
Though the band broke up in 2009 following their third and final studio album  Hell or High Water, As Cities Burn reunited a handful of times to play their first album  Son, I Loved You At Your Darkest in full various times in 2012, in addition to a short UK tour and supporting Underoath's farewell tour. Despite the touring, it's still been six years since we've heard any new material from the band. "Prince of Planet Earth" breaks the spell of silence.
As Cities Burn is offering  a special pre-sale ticket package, which includes a screen print poster and t-shirt design unique to each city on the anniversary tour.  You can pick one up here.
As Cities Burn Tour Dates w/ Emery, Listener, and Foreign Sons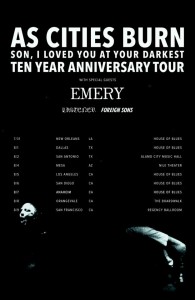 7/31 – New Orleans, LA @ House of Blues
8/1 – Dallas, TX @ House of Blues
8/2 – San Antonio, TX @ Alamo City Music Hall
8/4 – Mesa, AZ @ Nile Theater
8/5 – Los Angeles, CA @ House of Blues
8/6 – San Diego, CA @ House of Blues
8/7 – Anaheim, CA @ House of Blues
8/8 – Orangevale, CA @ The Boardwalk
8/9 – San Francisco, CA @ Regency Ballroom
Tags:
As Cities Burn
,
emery
,
Foreign Sons
,
Listener