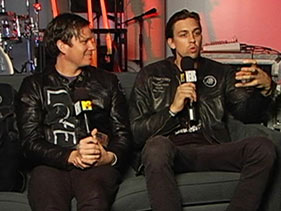 Joining the likes of Radiohead and Trent Reznor, Tom DeLonge can now be added to the growing list of platinum-selling rock musicians who are giving away records for free. Angels & Airwaves' third album, Love, was released free download this past Valentine's Day on DeLonge's musician-friendly social networking site, Modlife.
Fans can choose to make a small donation for the album, and in return, they'll receive a bonus remix of the first single, "Hallucinations," done by DeLonge's Blink-182 cohort Mark Hoppus.
"We were really interested in the one thing that ties everybody together in a very scientific way but a spiritual way," DeLonge told MTV News about the theme of Love, which was inspired by research the singer had done on the physiological effects positive energy can have on living things.
"There's a lot about our planet we don't know – we kind of live on Pandora."
After the record was pushed back from its Christmas Day 2009 release date, the band decided to drop it on February 14 to continue with the love motif – and giving the album away to fans also ties into the message the band is spreading.
"Love is the connection aspect," guitarist David Kennedy said. "And if we can empower people, we can actually distribute more records that way."
Since the decision was made to record and release the album independently, the band  got promotional assistance from companies ranging from music site Fuel.tv to Accurate Fishing, a manufacturer of fishing reels.
"This is a 100 percent independent record release, and I think because of the help, it will be by far our biggest," said DeLonge, who has often promised big things from Angels & Airwaves.
To further justify the decision to self-release Love, DeLonge discussed how labels, in their effort to stop piracy and illegal downloading, limit access to the artists' product to try to sell what they can. This only hinders the band's potential to reach an audience in the long run, he said.
"If we have a free record and we push it out there rather than try to stop it, not only do we think that we can probably get probably 10, 20, 30 times more people to have it," he said. "We can also make use of technology to try to change our business model."
Angels & Airwaves' new business model also includes plans to release a full-length feature film, also called "Love," which is a thematic companion to the record. Although the band has given no official release date as of yet, the film is expected to make its debut online sometime next month.
Tags:
Angels & Airwaves