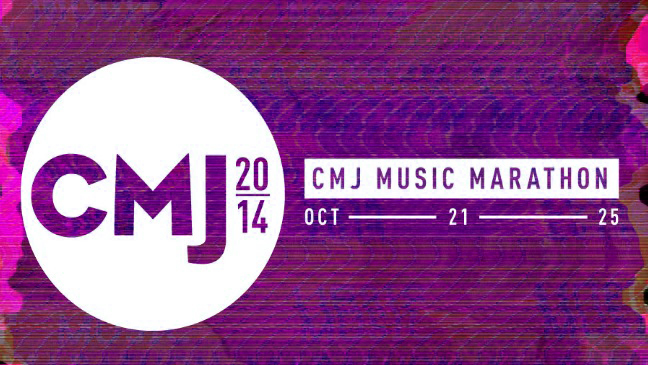 The Thursday edition of the CMJ FourPlay is here! Each day, idobi Radio brings  you four can't miss events from the  CMJ Music Marathon.  With only three days left to experience as many awesome panels, showcases, and shows  as you can, our guide won't leave your side.
The CMJ Music Marathon |  10/21 through 10/25 New York City
THURSDAY CMJ FOURPLAY — 10/23
Gerard Way
My Chemical Romance frontman and freshly branded solo artist Gerard Way is on everyone's CMJ "artists you can't miss" lists. There's no doubt about it. And if for some godforsaken reason he isn't, something is wrong. Yeah, we said it. We even dare to say he's ranked higher than The Kills, another CMJ high-profile band who are playing Bowery Ballroom the same night. It'll be a tough decision between the two, but Way's CMJ performance comes just two days after a packed-house performance at NYC's Irving Plaza, which we hear was quite impressive.  So, don't miss your second chance here, New York.  (Alyson Stokes)  
Webster Hall // 8 p.m. // $35
The Kills at Bowery Ballroom // 8 p.m. // $35, but according to the venue's official website, tickets are already sold out.
New Shapes – Showcase
The list of artists for Neon Gold Records' New Shapes Showcase (a US version of the UK's monthy club night) has some of the week's most blogged about acts. Rising pop stars Verite and Zella Day both released their debut EPs this week.  The showcase is also  one of  the first gigs in the states for  Australia's left-field R&B musician Fractures, English alt-rockers Circa Waves, and  synth-dripping Australian producer Thief. A few short months from now, when each of these acts blows up, your friends will be jealous as hell that you saw them all on one night. (Tarynn Law)
College Day: Music Directors' Summit
If you're in the music industry, you've learned that a little know-how can go a long way. And what better method of learning than straight from music directors who have been in your shoes, and blazed a trail to success? The Music Director's Summit, taking place at 11:30AM today, will give you just that chance. Join the group of speakers, including Erin Wolf, Joe Silver and Samantha Sedlack, today for the insight you need! (Emillie Marvel)
NYU Kimmel Center, 10th Floor, Rosenthal Pavilion // 11:30AM — 12:45PM
Sub Pop & Hardly Art – Showcase
If you're not in Manhattan, or simply don't want to be in Manhattan, head on over to Brooklyn for a taste of Sub Pop Records eclectic lineup of artists, featuring Obits and Protomartyr with Lee Bains III & The Glory Fires, Gem Club, S and Luluc.  With the bands hailing from right there in Brooklyn to Australia to Michigan and even the good ol' Southern state of Alabama, this is definitely a showcase where everyone can find a little something (but probably a lot) that pleases their ears.  (Alyson Stokes)  
Knitting Factory // 8 p.m. // $12, limited free admission for CMJ badge holders
Tags:
Circa Waves
,
Fractures
,
Thief
,
Verite
,
Zella Day