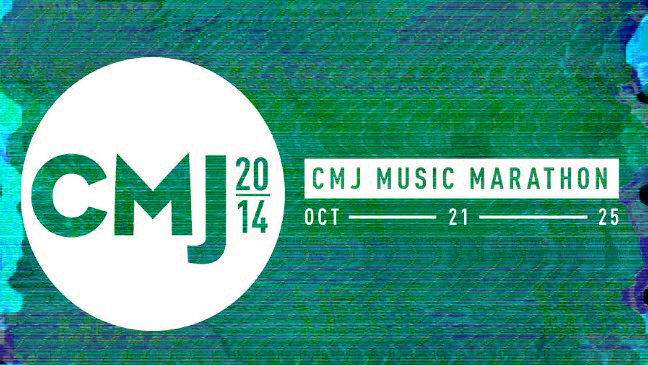 Today might be the last day of the
2014 CMJ Music Marathon
but there is still a full day and night of events to go. We've made our final "Four Play" picks  but it hasn't been easy narrowing down our choices the last five days. Whether you were able to attend this year in person or are sitting at home looking for some new music, you should check out all of the great
artists
who played CMJ this year. You might just find your new favorite band among the local, national, and international talent showcased this year.
(Cindy Tenicela)
The CMJ Music Marathon |  10/21 through 10/25 New York City
SATURDAY  CMJ FOURPLAY — 10/25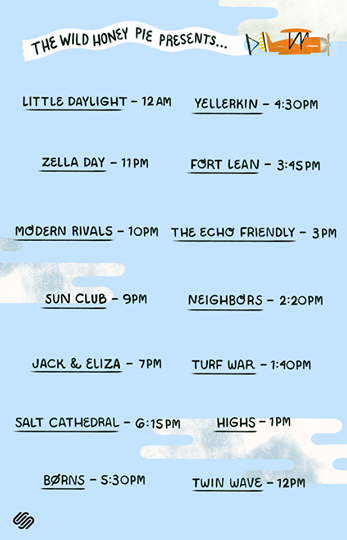 The Wild Honey Pie – Showcase
For The Wild Honey Pie's fifth birthday, they're doing it big – some of the year's most talked about acts will be there including rising alt-pop songstress Zella Day (who just released her stellar debut EP this week), synth-pop trio Little Daylight, the smooth melodies of Sun Club and BØRNS' gorgeous voice, and hometown noir-pop duo Yellerkin will be there too. If you're wanting to close out your CMJ on a high note, the Brooklyn Night Bazaar is absolutely where you need to be.
(Tarynn Law)
Brooklyn Night Bazaar, 165 Banker St. //  

12pm – 2am

 // 21+ //

Free

w/ RSVP
Shark Week
It might be getting colder every day here in NYC, but Shark Week are bringing an eternal summer to the stage with their surf pop sound mixed with raw, fuzzed-up punk. And much like their name, they've got teeth, providing you with the perfect chance to break stuff (just don't get yourself thrown out until after you've watched their whole set). (Alex Bear)
Arlene's Grocery //    12:15AM  
Pity Sex
If you're looking for all the passion, talent and DIY nature that comes standard in the Midwest music scene, look no further than Pity Sex. The Ann Arbor bred four piece are hitting the final day of the CMJ Music Marathon with their grungy indie punk sound. If you don't want to miss the storied live show put on by one of Michigan's finest acts, find yourself at Baby's All Right at 10:15PM. (Emillie Marvel)

Baby's All Right, 146 Broadway, Brooklyn // 10:15PM – 11:00PM
Silver Point Records and Madhouse Management – Showcase
It's the last day of CMJ. You're probably tired, broke and hungover, but you've almost made it! Don't quit now! This showcase is free and it'll be an indie rock lover's paradise. Best of all, Siren Sounds PR & Willow Wood Official Showcase is happening right after this one, so the Lower East Side venue Arlene's Grocery wouldn't be a bad place to stay all day, actually. But, this daytime showcase, featuring personal favorites The Wans and Turf War, is definitely one to check out. Other artists include Concord America, Tesla Rossa, Penicillin Baby, Ugly Kids Club and Tetherball. (Alyson Stokes)

Arlene's Grocery // 11:30 a.m. // 21+ // Free
Tags:
CMJ
,
Pity Sex
,
Shark Week
,
Zella Day