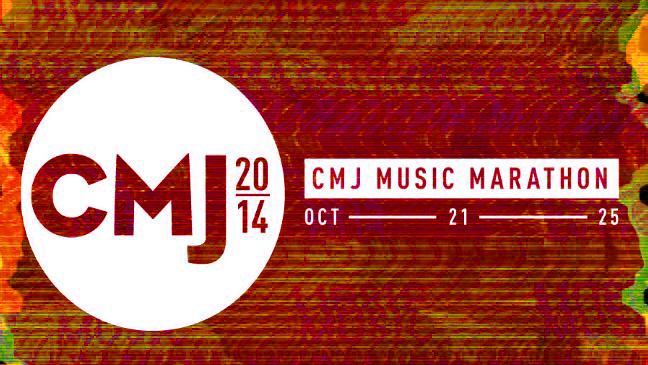 Each day, we're bringing you the top events to catch at the CMJ Music Marathon. Today's cheat sheet includes previews of rad shows, sessions with industry professionals, and legendary showcases.
The CMJ Music Marathon |  10/21 through 10/25 New York City
FRIDAY  CMJ FOURPLAY — 10/24
The Descent Of The Major Labels And The Ascent Of The Self Distributed Artist – Session
It's not an easy road out there for new musicians, but there are ways to make a living without label support. Industry experts, including Gerald M Stern, Joseph Lloyd Serling, and Daniel M. Shulman, Esq. will explore the constant struggle between labels and artists, the DIY approach, and how artists can achieve exposure through promotion teams and social media.  (Alex Bear)

NYU Kimmel Center, 10th Floor,  Rosenthal Pavilion  //  10:10am – 11:20am
Fleming Artists Showcase
If you've spent all your money by Friday and/or you're on the hunt for a showcase that doesn't require a CMJ badge, well … search no more. We've found the perfect free showcase, where you can still hear some great music. Fleming Artists are showing off some big names on their roster like rockers Baby Bee, Daniel Ellsworth & The Great Lakes, Knox Hamilton and one-woman band Kawehi. While Baby Bee is a personal favorite, Hawaii native and independent artist Kawehi is making a name for herself as a true DIY artist and is set to deliver a one-of-a-kind performance that is likely to include a unique blend of beatboxing, guitar and keyboard. (Alyson Stokes)
Rockwood Music Hall,  Stage 2 //  Free and open to the public //  7 p.m.
Culture Collide NY – Daytime // The Green Room Presents – Nighttime
Honestly, you could spend your entire day at the Knitting Factory in Brooklyn and see a truly mindblowing amount of awesome new music from all over the world. During the day the venue plays host to New York's version of the Culture Collide festival that takes place every year in Los Angeles. Unlike quite a few showcases that have happened this week, there'll be more guitars on stage than synths, courtesy of English trio The Wytches, Scottish group PAWS, the fiery riffs of LA band Beverly, the surf-rockers in SPLASHH and Manchester's PINS.
The nighttime show on the other hand, presented by the Green Room, leans heavy on the synth – not that that's a bad thing. Stockholm/Sydney based noir-pop group Kate Boy only have a pair of songs out, but have been one of the week's most buzzed about acts. Local duo PROM provide an absolutely lovely slice of dream-pop for the evening and Australia's own Safia have opened for the likes of Lorde, so that means they're rad by default. Broken Luxury will be performing a DJ set as well, and if you're wanting to get your groove on, look no further. (Tarynn Law)
Knitting Factory, 361 Metropolitan Avenue  
Culture Collide //  21+ // Free w/ RSVP at  culturecollide.com/ccnyc  //  

11:30am – 6pm
Green Room //  $12 // Buy tickets  //  

7:30pm – 1:30am
Moon Taxi
As someone who caught a Moon Taxi set just last weekend, I ask you to take my word on the fact there is only one way to describe what goes down at a show like this: Fun. Hoola hoops, lights, glow sticks, hookah pipes–a total sensory overload. So if you're looking for a place to hang with your friends, and jam to stellar tunes, head to the Gramercy Theater at 9PM. (Emillie Marvel)
Gramercy Theater, 127 E 23rd St // 9PM
BONUS PLAY
Festival Culture: Is It Still About The Music? – Panel
If you find yourself watching the summer-fest craze closely, wondering where it will go from here, and how today's music carnivals will hold up in the future, you won't want to miss the Festival Culture: Is It Still About The Music? panel. Join in as a handful of industry professionals explore and discuss the world of music festivals. (Emillie Marvel)
NYU Kimmel Center, Room 905/907 // 11:00AM – 12:15PM
Tags:
Baby Bee
,
CMJ
,
CMJ Music Marathon
,
Daniel Ellsworth & The Great Lakes
,
Kawehi
,
Knox Hamilton
,
Moon Taxi