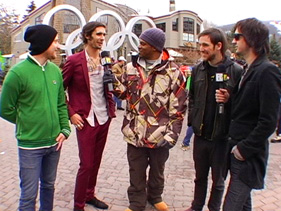 The All-American Rejects are having too much fun at the 2010 Winter Olympics in Vancouver.
The Midwestern band are enjoying the fact that a collective with their moniker would be asked to perform – let alone appear – at the game's first medal ceremony.
According to frontman Tyson Ritter, this opportunity is as unique as they come.
"[The organizers said], 'We wanted a band that rules live,' " Ritter told MTV News, joking about their selection. "I think it's ironic that the All-American Rejects are opening the medal ceremony … that's so great. Did anyone really know what our band name was? In Canada, it's OK – but if this was Salt Lake City a few years ago, our name wouldn't even be on the list."
But the alt-rockers are here and they impressed last Saturday with a medley of their hits, including "When the World Comes Down" and "Move Along." The Rejects were the first musical act to perform since the games started – their performance capped off the medal presentations for the ski jumping and women's biathlon events.
Usher, British singer Estelle, and The Roots are among the many acts slated to take the stage during the various medal ceremonies.
While north of the border, the members of AAR stared in awe at the athletes. Ritter, with his famously lanky frame, confessed that the Olympic competitors leave him feeling less than buff.
"Dude, that's why we gotta keep wearing layers," he explained. "As long as we wear layers no one can tell how big or small you are – [otherwise] it's like, 'Man, that dude looks like a flamingo.' "
Tags:
The All-American Rejects