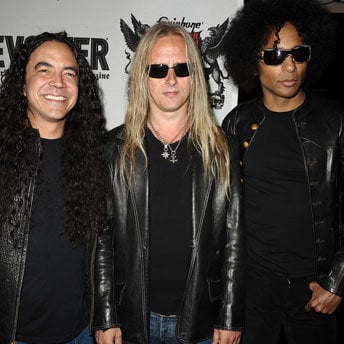 Alice in Chains has signed with Virgin Records and will release its first album with new singer William DuVall, the Los Angeles Times reports.
"I can tell you that some amazing songs were written and recorded. From the heaviest riff-dripping gut puncher to the most sadly beautiful song I think this band has ever recorded, I honestly believe that this album will return Alice in Chains to the top of the hard rock heap," a post on the band's official Web site reads.
Earlier this month Alice in Chains revealed they had completed recording the new album.
"Hopefully these new songs will strike a chord and make a similar impact on all of you out there that were moved by this band in the first place," the post goes on to say.
According to the LA Times, the band received record contracts from pretty much all the major labels based on a five-song demo before eventually deciding on Virgin to release their new album.
One of the new songs is a track called "Your Decision," which features Cantrell singing about "surviving pain and choosing to live." That's followed by a seven-minute rocker that is "built on heavy slabs of guitar, drums and bass, something like Black Sabbath but far quicker," the Times writes. Additionally, the band's official Website hints that "special guests" showed up during recording.
The still-untitled record is due out in mid-September. The LP will be the great grunge band's first of new material since 1995's Alice In Chains, which featured singer Layne Staley, who died of a drug overdose in 2002. DuVall, who previously fronted the band Comes With the Fall, became Alice in Chains' new lead singer in 2005.