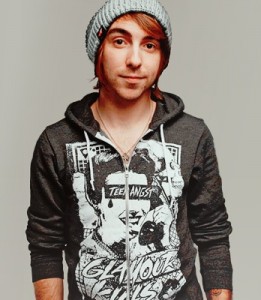 In his in-depth interview on The Gunz Show, All Time Low frontman Alex Gaskarth discussed  the experience they had recording their new album after releasing their last album on a  major label.
It's such a different experience this time around. When we were on Hopeless Records, that's pretty much what we were used to. They would definitely chime in at certain points in the process, but it was always just to check up on how the process was going – it was never to interject or to push us in a direction… So it was a pretty dramatic change when we were on Interscope and had a lot of people telling us, "This is what's working, this is where you should go with it." … Just the cheesy shit you always hear about…. You can never be prepared for it.
That being said, this new process was really, really cool. We were unsigned starting in December, right before we started writing for the new album. We knew that we had been unsigned for a little while before we announced it. Working on the songs and working on the record, it was so good because it was completely 100% us. It was us and [our producer] Mike Green. I think the only other outside opinions we had were like, our crew and our manager… It was nice to bounce ideas off people who actually genuinely care about us as a band and as folks. There's a real "family" vibe on this album, and I think that's important for sure.
Gaskarth also spoke extensively about the band's as-of-yet-untitled new record.
We are done with the record, so it's being mixed over the next couple weeks by Neal Avron (Fall Out Boy, Weezer, New Found Glory). He's a badass, man… He's going to be making the record sound amazing. He dropped everything and mixed "The Reckless and the Brave" for us last minute, just so we could get something out before Warped Tour. We felt like that track sums up the album in a really good way… It's definitely the first thing we wanted people to hear.

It's for sure a progression, but there are elements of what we used to do sprinkled through. Like I said before, this time around I tried to get rid of the idea of using genre influences and time period influences like I have in the past. I've written songs when I was like, "Alright, I really want this to sound 90's," or whatever. This time in the writing process and the creative process, it was really more like figuring out the best elements of what we used to do, and kind of tapping into all of those things so you get this really cool mix. It definitely has some pop on there – I'd say it's a pop rock record overall. We have these pounding songs as well that harken back to the pop punk days for sure. It's this really cool blend. You get the old and the new in a really nice package, I think.

There is some disdain and a little bit of bitterness in some of the lyrics, but at the same time there's a lot of resolution and a lot of resolve. Powering through the bullshit and trying to fix the situation – that's always kind of what this band's been about. It's not about dwelling on the negative, it's more about pushing through and finding the good in the shit that does happen to you.
Regarding the band's touring plans for the rest of 2012:
We're going to be touring this entire year, now that the record is done and hopefully coming out this year. It's going to be madness. We will be on the road constantly.
And finally, Gaskarth discussed the band's label situation.
Nothing to state yet, but it will be known to the world soon… There's nothing official, but the options that we have are really strong and really awesome, and we're really happy with where things are at.
Listen to the full interview here!
Tags:
All Time Low
,
Exclusive