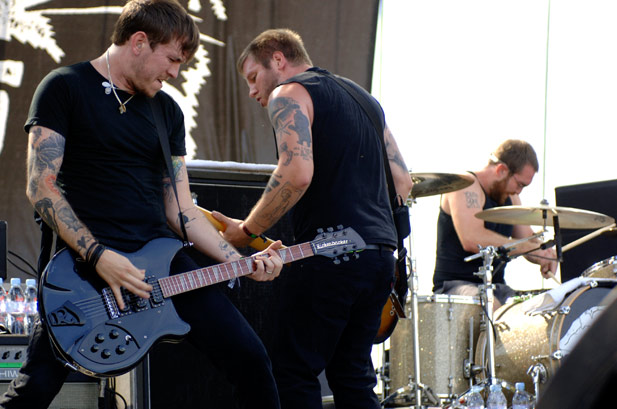 Florida pop-punk outfit Against Me! is known for its raucous live shows and angst-filled lyrics, but with its fifth album White Crosses, due June 8 on Sire Records, the band is dipping into the past.
"I spent a lot of time thinking about growing up in Florida and the people I used to know," front-man Tom Gabel said. "I'm very wary of nostalgia. But in the various stages of writing the record, I started looking at bands that I admired that had longer careers…they stopped trying to project into the future and accepted where they were and where they came from. I drew inspiration from that."
Indeed, White Crosses finds Gabel reflecting on his youth during songs like "I Was a Teenage Anarchist" and "Because of the Shame," and the 29-year-old says the song "Suffocation" has a bit of T. Rex influence. Against Me! hasn't abandoned its political leanings, either. The title track, "White Crosses," laments the anti-abortion stance taken by a church in Gabel's hometown of St. Augustine, Fla.
"Around the corner from our house, on the church lawn, there's 4,000 white crosses," he says. "It's a real eyesore."
Since its inception in 1997, Against Me! has fast become one of modern punk's most celebrated acts. 2007's New Wave, the band's first album for Sire, has sold 127,000 copies, according to Nielsen SoundScan.
While the release of White Crosses is a little less than two months away, Against Me! gave fans a taste of what's to come last week, releasing a digital EP entitled, I Was a Teenage Anarchist. The four-song sampler contains two album tracks, "Rapid Decompression" and the aforementioned "Anarchist", along with two exclusive songs, "One By One" and "Bitter Divisions."
Against Me! will be on tour for most of 2010, with club dates beginning on  Apr. 16 at Greenville, S.C.'s Handlebar and a set at Bonnaroo music festival on June 13.
Tags:
Against Me!