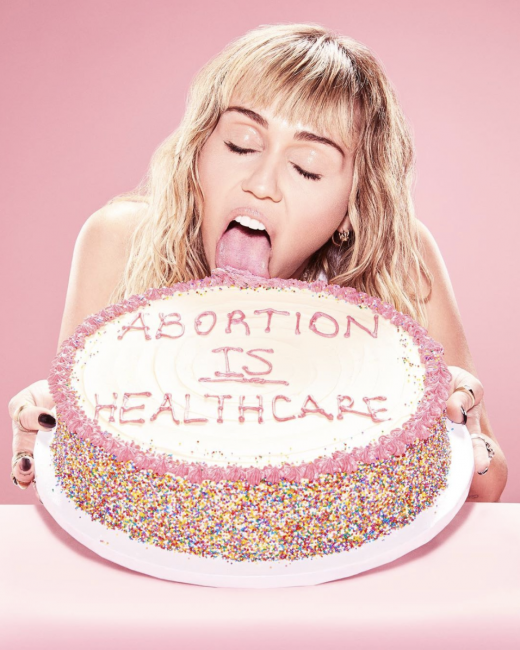 Miley Cyrus and Marc Jacobs have collaborated on a hoodie to support Planned Parenthood. In their advertisement for the collab, they posted an image of Miley licking a cake with the phrase "Abortion is healthcare" on Instagram.

It's commendable that the entertainer and designer are using their platform to raise money and awareness for the healthcare provider. Often misrepresented as solely an "abortion clinic", Planned Parenthood provides MANY other services for women and men. The design of the cake has raised more than just pro-birth eyebrows. Washington, DC-based baker Becca Rea-Holloway, aka The Sweet Feminist, posted a picture of a cake of the same design on May 15th. Becca had this to say from her Instagram page:

"@mileycyrus just announced a collaboration with @marcjacobs @plannedparenthood@happyhippiefdn using this image. It is a direct theft of my own original art work from May 2018, with no credit. It's literally my exact handwriting, message, and concept. Swipe for comparison! Cake art is for everyone, but this is inexcusable."

Soon after Miley, or whoever runs her social media, posted this response:
"Hi, we saw the image online and didn't realize it was yours. We will absolutely tag you for your work. This image is not on the Marc Jacobs x Planned Parenthood hoodie we made to raise money and awareness for Planned Parenthood which I know is also close to your heart. It is just on the post and not on the merchandise but we will absolutely tag you and give you the credit for your art. If you could please correct your post, as we're going to make sure you have all the credit you deserve… thanks for sharing your art and inspiring us. ????"

Now, it's easy to side with an artist who feels as though they've had their art stolen. The idea that a major brand like Marc Jacobs would steal the art of a hardworking artist is pretty disappointing. There are definitely better ways to have gone about the use of this design in a large campaign, like adding a sentence into their post about who the cake advertisement idea came from.

Here's the thing though—and it's really important for artists, musicians, designers, bakers, basically everyone creative to remember—once you put something in the public domain without a copyright, patent, or trademark it can be considered fair game. This is not coming from a lawyer but from someone who has had to learn a lot about intellectual property.

Another aspect to this as well, the handwriting Becca touts as her own also looks a lot like, well, mine. Loads of people write in all caps or block letters. The slogan "Abortion is Healthcare" is known among reproductive freedom supporters. The block letters and slogan ended up on a cake that looks just like the one made by the Sweet Feminist, it's not unique. It's the collective combination of the handwritten slogan, identical color scheme, same cake size and shape that makes this a rip-off.
Should the Marc Jacobs x Miley Cyrus collaboration to support Planned Parenthood give credit where credit is due? Obviously. Should the Sweet Feminist change the language about the familiar slogan and font used? Maybe, maybe not. Some artists would say that so many larger companies steal from artists that any hint of the threat of theft should be strongly worded. Others might say "Play nice" and that sweetening the word choices could be helpful.

There's a completely reasonable answer to this disagreement. What's completely unreasonable is the need to fight for reproductive freedom in 2019.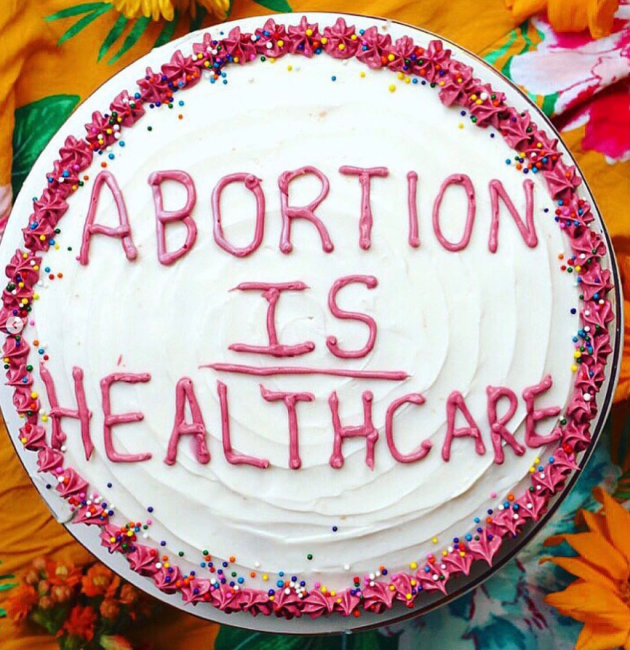 Tags:
Abortion
,
marc jacobs
,
Miley Cyrus