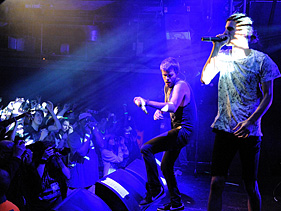 This spring 3OH!3 will hit the road with Cobra Starship, kicking off the tour on April 28 in Milwaukee. And while both bands' sounds will have fans dancing in the aisles, the members also share a considerable height advantage on the basketball court.
"Apparently, we have a massive truck that's coming on the tour with us. People don't know that Sean Foreman  is actually tall," Nathaniel Motte said. "They think he's small, 'cause I'm tall. He's 6'1" and I'm 6'7" and I think Cobra Starship have a couple dudes who are, like, 6'4″. We're gonna be playing basketball."
Foreman feared that the members of Cobra Starship will have the edge over them, because "collectively they're taller." But aside from coming up with b-ball strategies, 3OH!3 have been spending time planning other aspects of the tour.
"We've been piecing it together as far as the stage production and the shows," Foreman said. "I think it's going to be fun. It seems like a really cool package for the money."
The Colorado duo, who are set to release a new album Streets of Gold in June, said there are some extra treats in store for the fans who come to see them live.
"We're gonna be doing some cool stuff. Some meet-and-greet stuff," Motte continued. "The sets are going to be really fun. We're trying to keep ticket prices super low. We got some animatronics."
Tags:
3OH!3
,
Cobra Starship