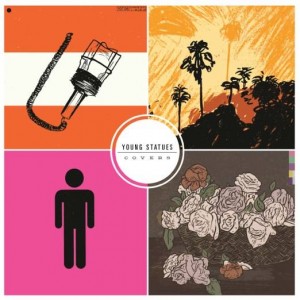 For most artists, it may be challenging to recreate their favorite songs, but Young Statues have released a solid cover record that reflects their own originality and maintains the integrity of the artists that inspire them the most.
Covers opens up with a Billy Bragg classic, "A New England." The fast-strummed acoustic guitars layered with gritty tremolo electrics provide a modern twist to the lo-fi purity of the original. Guest vocalist Brianna Collins of Tigers Jaw shines on this song and compliments the smart indie vocal stylings of frontman Carmen Cirignano. Young Statues deliver a quirky stripped down arrangement that is thoroughly enjoyable.
The album's second track is a simple and heartfelt cover of Ryan Adams' "Ashes of Fire." This cover features an acoustic guitar and minimal percussion, which allow Cirignano's soft, mellow voice to breathe and dominate the mix. The anti-folk/indie tinge of his voice is reminiscent of E6 Collective heroes Neutral Milk Hotel. This rendition of "Ashes of Fire" is strong, basic, and intimate. The band does a great job of combining lo-fi and hi-fi sounds to make a solid and intriguing track.
Track three is a killer version of The Magnetic Fields' "California Girls." Young Statues delivers yet another simple, upbeat, melodic cover that is preferable to the original, in my opinion. The song has a pseudo-Ben Gibbard vibe with honest vocals, ambient clean guitars, and piano. It's carefree and easy to listen to.
The EP closes with New Order's famous "Age of Consent." This is the strongest cover on the entire album. The band chose to stray away from the simple arrangements of the other tracks and delve into the new wave/post-punk production that mirrors the original very closely. However, the song still takes on a modern feel, along the lines of The Postal Service and Matt and Kim. Young Statues' strength on this track is providing intricate vocal melodies with indie ambience and textures that give the band a cohesive sound of their own.
Young Statues have put out a cover album that, unlike some others, did not make me cringe. They reinvented their favorite tracks and made them their own, experimenting with clever arrangements and instrumentation to exemplify their visions and talents. This EP will not disappoint.
Rating: 4/5
by idobi contributer Ethan Rose