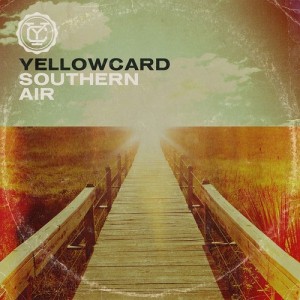 Call it a comeback for Yellowcard. Despite their return from hiatus in 2011, these legends of pop punk have left fans waiting for something as hard-hitting and memorable as their early hits for nearly a decade. Their sixth full length, Southern Air, proves the wait to be more than worth it. Infused with a resurge of energy, touching lyrics, and an obvious wave of newfound inspiration, Southern Air finally gives fans exactly what they've been waiting for. With the familiar production of Neal Avron and guest vocals from fan favorites Alex Gaskarth (All Time Low), Cassadee Pope (Hey Monday), and Tay Jardine (We Are The In Crowd) paired with masterful writing that rivals that of the classic Ocean Avenue, Yellowcard have constructed an album with true lasting value.
It takes no time at all to realize that Southern Air far surpasses the quality of its last few predecessors. Opening track "Awakening" begins with vocalist Ryan Key singing of celebrating life and pleading for a new beginning. The upbeat track is immediate evidence that this is the beginning of a new and improved era for the band. Followup track "Surface of the Sun" grapples with the same idea that despite the trials life can bring, the will to be someone amazing can always conquer. First single "Always Summer," the catchy anthem that graced the ears of Warped Tour goers all summer, represents the entirety of Southern Air, managing to overflow with positivity while simultaneously touching on the internal struggles that everyone deals with.
Musically, Yellowcard still have their classic pop punk sound made unique by the beautifully-placed violin of Sean Mackin. With a natural sound that demands attention without being contrived or overbearing, Southern Air is quintessential Yellowcard but with a newfound maturity that brings forth emotion that was missing from the band's last few releases. Even on the most contemplative tracks, "Telescope" and "Ten," we are met with an undertone of uplifting drum beats and sweet violin melodies. Despite being paired with more serious subject matter, the stunning essence of every track resonates with feelings of hope and contentment. Southern Air culminates with its amazing title track, which takes a look at the simple things that come to be the makeup of a person's being.
Southern Air makes it apparent that the most personal, honest writing is the most universally relatable – with each listen, fans will learn as much about Yellowcard as they will about themselves. With moments of captivating energy and others that recall touching memories, this album is track after track of unadulterated brilliance. It's rare that a release this impressive comes so late in a career, but with Southern Air, Yellowcard have matured in every way without losing the essence of youth and innocence that they've always been known for, making for a record that is sure to be timeless.
Rating: 5/5