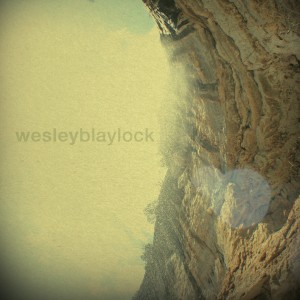 The stunning debut solo EP from Deas Vail frontman Wesley Blaylock is something that both Deas Vail fans and new listeners will be able to embrace with open arms. Blaylock's familiar angelic voice soars through each of the EP's five songs. It may be a bit quieter and more slow-tempo than Deas Vail's work, but it certainly does not lack in musical dynamics or lyrical prowess.
The fragile yet confident opener "Asleep at the Wheel" sets the pace for the rest of the EP. The song is about a person trying to find a way out of a relationship they know is set to fail while showing the other person how much they still care. As Blaylock sings, "I know I could say I'll change for you / How much would it take, and what would we do when this comes around again?" there is a sudden urgency in his voice — the relationship has to end. In a recent interview, Blaylock described "Burns the World to Gold," the EP's second track, as dealing with self-discovery and finding a balance in one's own life with heartrending lyrics such as "I'm sinking down to the bottom of an ocean / And I may drown if you can't bring me up for air."
The Blaylock family is certainly not lacking in talent, as evidenced in both "Falling Over You," featuring his wife Laura Blaylock, and "Finally the Truth," which showcases his sister Hannah. In the beautifully intimate 'Falling Over You," Wesley and his wife reminisce about when they first met and dream about their future together for a track that would make a perfect wedding song. "Finally the Truth" has a similar lyrical theme to "Asleep at the Wheel," dealing with a couple that has decided to call it quits as they both know it isn't working out. In one of the EP's best moments, Hannah Blaylock's voice weaves together with Wesley's for the last few lines of the song; it's gentle and heartfelt, with neither voice overtaking the other. "Sway" is a perfect closer for the EP, with the quiet guitar allowing Wes' voice to be the main focus and his lyrical ability to shines through.
Wesley Blaylock's self-titled EP is perfect for those rainy summer nights where you just want to curl up with a good book. As a singer, Blaylock's calm and delicate voice takes you on a journey through the best and worst of love, from the rough patches to the incredibly joyful times. You'll find solace and peace in this strong debut.
Rating: 4/5