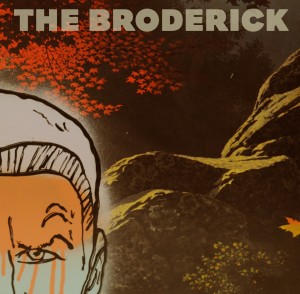 From the very beginning strains of the first song on The Broderick's self-titled LP, the album's compelling nature is apparent. The skillful lyricism combined with its simmering emotions make for a cohesive twelve-track set that never lacks enough differentiation to keep the entire album feeling fresh.
"On The Canvas" immediately casts a slightly stealthy air with its creeping guitar lines and gradually building layers of plaintive vocals and cymbals. It sounds furtive and invites the listener to tiptoe forward into the realm of the album gently. Soon after, "Dancing for the Dogs" smooths out the flow into sorrowful little rivulets of reflective vocal work by Max Mullen and beautifully blending instrumentals courtesy of drummer Quinten Schulze, bassist Eric Day, and guitarist John Codespoti to back the relatable tale of missing someone.

A song to blast while getting ready for a night out or driving to a nighttime destination, "Wild and Crazy" turns the listener around and spins a tale of debauchery. The guitars dig deeper; they crawl under the skin and conjure visuals of lovers' fights and twisted nights out with friends. The entire mood is much more raw and it adds yet another facet to the album without being too blatant with its rock 'n' roll, especially since it finds itself followed by "Gold in the Fire," one of the gentler tracks on the album. "Battle with the Baker" also fits into this gentler category, and it comes off as one of the more honest tracks on the album. Though the lyrics are anecdotal ("We went out riding bicycles on the levy") they ring earnest enough to create a nostalgic feeling that feels somewhat like coming clean with events of the past. It is one of the album's more haunting songs, and occurs just when the album needs a breath of crystal-clear air.
"Expecting a Curse" especially holds a molten volcanic heat which finishes the album on a strong note, and the final tracks truly feel like closing the back cover of a book in finality. The "book" that is The Broderick holds enough variety to make every page turn captivating; every new story adds a new dimension to the overall work. It hovers somewhere between the black-and-white juxtaposition of intense rock and acoustic indie, but its subtle in-between colors are what makes the album truly worth listening to.

Rating: 4/5