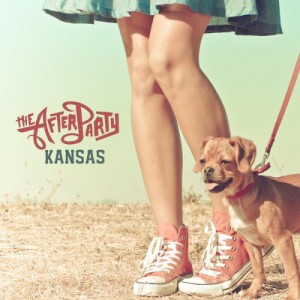 Kansas, the second EP from sunflower state natives The After Party, puts the pop in pop rock. With a toned-down sound, this EP will soothe as well as enthuse its listeners. The band's dancey hooks will have you bouncing around your room in hopes your crush will call you up. You'll be reminded of the warm summer nights of hanging with friends and being worry-free. It's the soundtrack to the sunny scenes of a teen drama.
Charming has a new sound on Kansas. The After Party have an innocence to them that would make them perfect for an after-school special. If you're looking for a song to lay around to, the relaxed vibe of "Waste the Day" makes it the perfect choice. Vocalist Kenny Greeley has a country tinge that gives a uniqueness to the band's pop rock style. "A Better Me" takes a sarcastic tone, with a little oddly-placed vulgarity. The bouncy melody will have you bobbing your head, but the out-of-place f bomb will make you wonder where these young boys learned such language.
If you've just had a ton of sugar, "She's Got A Boyfriend" will push you over the edge with its sweetness. Somehow record scratches find their way into this song, throwing you off at first. The drums keep the tempo up while the rest of the band dresses this track up for the masses; however, it's a tad bit too preppy and neat. The trance-like state "Still Got Love" puts you in is a sudden change from its upbeat predecessor. "Still Got Love" and "Here Comes The Rain" both take on a slower pace with a more melancholic tone to them. "Here Comes The Rain" features a keyboard intro leading into the bittersweetness of the rest of the song – even their sad songs have a pop aspect. The transition into "Unforgettable Nights" is a little awkward, but the rest of the song is uplifting and picks the pace back up for the end of the album. You'll feel young, wild, and free (but not too crazy) listening to Kansas. Just don't forget to be home before the streetlights come on!
With their light mix of pop and rock with just a dash of country, The After Party put together a nice cocktail that goes down easy. But once the EP is over, you'll come crashing down from the sugar high. Still young, the band has taken the next step in their musical career with Kansas. On the right path with a little more growing to do, audiences have a lot to look forward to from The After Party.
Rating: 3/5