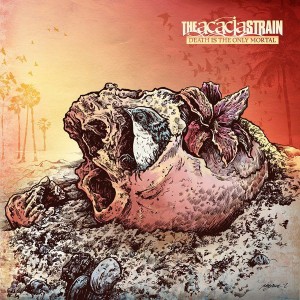 If you're looking for an album to get angry to, look no further than The Acacia Strain's latest effort Death Is The Only Mortal. Filled with expletives and breakdowns, The Acacia Strain bring a full course meal to the table that the masses will gobble up. It's the most complete album from them to date, filled with both power and finesse.
The album starts out with "Doomblade" a song that definitely sets the tone for the rest of the album. Beginning with a 911 call that will send chills down your spine, "Doomblade" soon gets into the dark, aggressive music The Acacia Strain are known for. "Our Lady of Perpetual Sorrow" continues the ambitious level of energy, while "Go To Sleep" definitely isn't as calming as the name would insinuate — you'll have a hard time laying your head down while listening to this album. The Acacia Strain have made sure to throw everything they have into this, making it as heavy as any metal fan could ask for.
Not to be outdone, "Brain Death" takes the combative attitude of the previous songs and kicks it up a notch. The Acacia Strain prove to audiences who controls just how heavy things can be. "The Mouth Of The River" wastes no time getting into the continuous chug with guitarist Daniel Laskiewicz skillfully carrying out the onslaught. Don't turn your headphones all the way up — "Dust and the Helix" will knock you off your feet if the volume is too loud. With a verbal force, this song will push you around. With guitars and vocals that compliment each other perfectly, "Victims of the Cave" has a way of mirroring itself. Both the vocals and instrumentals convey the same feeling, amplifying the tone of each song.
It's not every day your knees get blown out by a song, but if any band has the power to physically assault someone with their music, it would be The Acacia Strain. "Time and Death and God" has some slower, more haunting elements, still managing to get the same eerie feel as the rest of the album even when the bass drum isn't kicking. "The Chambers of Nautilis" has a stand-alone attitude, and you can't help but be drawn into some of the album's best guitar work. Well put together, "House of Abandon" brings a close to the album, but in no way leaves you hanging. Dripping with attitude and outrage, The Acacia Strain takes no prisoners on their new project.
Not an album to take lightly, Death Is The Only Mortal takes modern metal and adds some weight to it. This album will challenge you on its journey from start to finish. Only fans of such weighty music will enjoy it like it should be. Not everyone can handle The Acacia Strain, but if you can, this album will be a prized part of your collection.
Rating 3.5/5