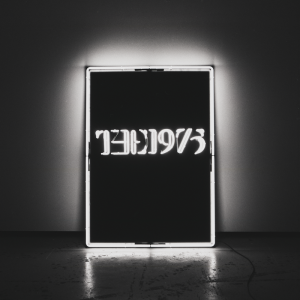 To the casual listener it would seem like they are, but Manchester four-piece The 1975 are not a new band. They've existed for a decade now under multiple different names and have released a handful of songs, honing their craft as musicians. On their debut album The 1975, the band has put together an incredible record that will without a doubt go down as one of the best of the year.
If you've heard any of The 1975's previous EPs and weren't a fan of their atmospheric-shoegaze sound but enjoyed the singles "Chocolate" and "Sex," rest assured — you are going to love this album. The band has said in multiple interviews that they crafted the EPs around the singles, and that the full length will have much more of a "John Hughes movie-80s inspired sound" – which is dead on what The 1975 is reminiscent of, but in a refreshing, current way.  Filled to the brim with catchy synth lines and fun, noodly guitar riffs provided by Adam Hann and witty but deeply personal lyrics sung with just a hint (okay, maybe a bit more) of an English accent provided by vocalist Matty Healy, the funky rhythm section provided by Ross MacDonald on bass and George Daniel on the drums rounds out the band's sound. It would be trite to call The 1975 simply a pop band, as their well-crafted songs have hints of R&B and soul laced throughout them that is evident upon first listen.
After the calming intro of "The 1975," "The City" explodes with bombastic drums and droning synths. A track that's seen multiple reincarnations throughout the band's career, the one they've settled on for the album fits the best out of them all — it's polished but not too clean, and still poppy enough to make even the most stoic hipster dance. What may sound like a glitchy chillwave song at first, "M.O.N.E.Y" emerges as a lovely, energetic tune with plenty of soul. The lyrics appear to be something out of a Bret Easton Ellis novel, musing about having enough money, getting blown, nosebleeds, weed, not getting into clubs, and even touching on the subject of race.
The track that brought The 1975 into the mainstream, "Chocolate," follows. Although it's been everywhere recently and you may not have been able to escape its extremely catchy guitar riffs and "we're never gonna quit it, never gonna quit it, no" lyrics, the placement between "M.O.N.E.Y" and "Sex" reinvigorates the track. One of my few complaints with the album is the latest rendition of "Sex," where Healy's voice sounds a bit more American than the other songs on the album, to the point where it doesn't even sound like the same vocalist at times. "Heart Out" is going to be a favorite track for a lot of people with its playful energy and relatable lyrics, and who doesn't love a good saxophone solo? One of the lyrics on the album that stands out on first listen falls right before that solo, where Healy sings, Yyou've got something to say? / Why don't you speak it out loud, instead of living in your head. / It's always the same, why don't you take your heart out instead of living in your head?" I think it's reasonable to say that a lot of people in their twenties struggle with making a head vs. heart decision, and "Heart Out" addresses that in a brilliant way.
One of the best songs on the album is "Robbers," a song that has existed for years but has shape-shifted into something outstanding.  Its swooning, massive harmonies seem destined to fill stadiums worldwide. Healy's vocals are dripping with emotion in a way we haven't seen on the album thus far, and is only matched in intensity by the fragility he portrays during the closer "Is There Somebody Who Can Watch You?" On the other hand, "Girls" is one of the poppiest tracks on the album. Its 80s-influenced guitar riffs and super sexual (but not, say, an overtly "Blurred Lines" kind of sexual) lyrics makes it destined for radio and clubs.
Written about his parents' separation and his younger brother's emotional well-being through that trying time, "Is There Somebody Who Can Watch You?" is unlike anything we've heard from the band before. The simple piano ballad featuring Healy's emotion-drenched lyrics both break your heart and restore your faith in the bond between brothers at the same time. It's an incredibly moving way to close out the album and it makes you wonder what else they have up their talented sleeves. The 1975 is one of the most enthralling debut albums that has been released in a long time. Their art direction (see: their notorious letter spacing on their Twitter account) may seem a bit much at times, but they're able to make it work with a certain level of class and rock and roll swagger that makes it exciting and fresh. Having opened for both Muse and the Rolling Stones recently, they have already accomplished huge things, and with the release of The 1975 they'll only see more success headed their way.
Score: 4.75/5