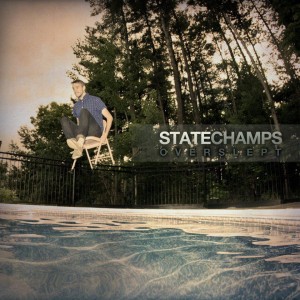 Mature may be a cliché word to describe a band's evolution in sound, but on Overslept it's evident that State Champs have grown into a pop punk force to be reckoned with. Overslept marks the band's Pure Noise Records debut and it's no surprise the upstate New Yorkers are starting to make a mark for themselves. With help from producer Jay Maas (Defeater, Transit), State Champs have come up with a short but strong EP that is full of energy.
"Tonsil Hockey" proves to be the perfect opener as an instrumental intro building up anticipation for the rest of the EP. Singer Derek Discanio's vocals have greatly improved since their past material, a change which is immediately noticeable as soon as "Critical" kicks in. The track is  reminiscent of the youth found in early All Time Low songs, albeit with a harder edge. Sure to be a live show staple, "We Are The Brave" is a confident song featuring prominent gang vocals.  The highlight of the EP comes in closer "Remedy". If this song doesn't get you singing along and jumping around while listening to it, you might want to get your ears checked. It also hits a personal note, talking about a relationship and asking, "When did I do something wrong besides staying up way too late to write these songs?" Clearly, writing these songs wasn't wrong after all as the catchy lyrics and intricate guitars provide more than an enjoyable sound.
Overslept may focus on friendships and breakups, but State Champs do it in a way where it's anything but stale. The band may be relative newcomers to the industry but are already living up to their name as the soon-to-be champions of pop punk. The songs have a certain lyrical prowess to them and producer Jay Maas was able to round them out with a full and pristine sound. State Champs have crafted an almost-flawless EP with the only gripe being wishing it was longer – but that's what the repeat button is for, right?
Rating: 4.5/5