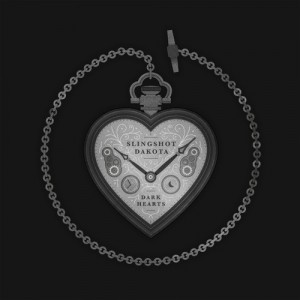 Slingshot Dakota pack an impressive punch considering the band consists of just two members: Carly Comando covering vocals and keyboards and Tom Patterson on percussion. The duo's most recent release, Dark Hearts, transitions between plaintive songs that hang in the air residually like life's difficult questions and fiercer, more gritty anthems enveloping Comando's clear voice.
After a lulling album introduction, "May Day" immediately demonstrates a few of the band's staples: sparse, simple lyrics that hit home with listeners and a minimalist approach to the instrumentals. As the song picks up momentum, it is easy to settle into the groove as it transitions onward to "Gossip," another driven tune featuring plenty of motion with vamped cymbals and busier vocals. "Disaster" provides a palate-cleansing break with its ballad-like feel and gentle flow before the album picks up again with electro-tinged "Rasta Bacca."
The next few tracks sound vaguely reminiscent of the first half the album until "Living/Dreaming" breaks in with rejuvenating keyboard melodies accented by artful crescendos full of crashing cymbals. "We're just getting started, we're just getting started," Comando croons, and the song indeed restarts the album's energy and keeps it flowing through the second half.
The album ends on a brilliantly haunting note with the fragile beauty of "Good Year," which showcases piano with the most earnest vocals on the entirety of Dark Hearts. It's bittersweet in both its medium and its message – the heaviness of life juxtaposed with the lightness of having another to share it with – and the final result is heartfelt enough to linger after the chords have died down.
Overall, the variety of Dark Hearts created between the two band members and their respective instruments is fresh enough to offer new zest with nearly every track. Whether in the tinkling keyboard riffs or the solid percussive backbone, the songs never lack direction or energy, and Dark Hearts ultimately encapsulates a full spectrum of feelings.
Rating: 3.75/5