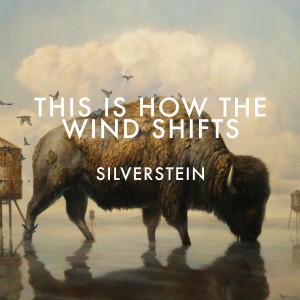 Silverstein make a triumphant return in 2013 with a release that not only reflects their roots, but also explores new complexities not heard on prior releases. This Is How the Wind Shifts is arguably Silverstein's most ambitious, mature, and progressive album to date. It is yet another concept album, similar to 2009's A Shipwreck In The Sand, featuring fourteen ambitious tracks that clearly demonstrate the band's growth and progression.
The album opens with the heavy-hitting single "Stand Amid the Roar." It begins with haunting, raspy screams and dissonant guitars, mimicking sounds of early Underoath. The song hits hard with fast-paced drums and an overhyped breakdown that will inevitably force fans to bang their heads. It is certainly one of the strongest and most dynamic songs on the album, ranging from punch-throwing breakdowns to serene breaks of clean guitars and vocals. There is not a more appropriate track to open the album with.
Tracks like "California" and "Massachusetts" feature the poppy hooks that would certainly swoon early Silverstein fans. They reflect the band's native sound a la Discovering The Waterfront, yet provide new melodic twists that keep up with the trends of their contemporaries. Vocalist Shane Told artfully alternates from clean melodies to energetic screams, providing an array of emotion and intensity. These are two of the most honest and heartfelt songs on the album.
"This is How," "Arrivals," and "The Wind Shifts" are very brief songs that tend to feel like interludes. However, these songs should not be overlooked. Although short and sweet, they contain some of the most intricate instrumentals on the album. It was also a pleasant surprise to hear new guitarist's Paul Marc Rousseau's angelic vocals on "Arrivals." These short songs give the album room to breathe and flow, as well as tying in its themes of loss, trial and error, struggle, and circumstance. They provide a sense of resolution and catharsis for listeners following the conceptual nature of the album.
One song that particularly stood out to me was "In a Place of Solace." It shows a different side of Silverstein that is haunting and pleasant at the same time, made up of screaming-only vocals layered with ambient and dissonant guitars. It is a melodic hardcore anthem, and personally one of my favorites on the album. It's nice to see Silverstein exploring heavier territory.
This Is How The Wind Shifts is considerably one of Silverstein's strongest albums. The fourteen tracks may go by quickly, but there are many twists and turns that keep you on your toes. This release is incredibly ambitious and impressive, containing some of the best Silverstein songs ever written.
Rating: 4.5/5