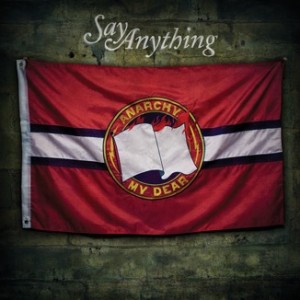 Anarchy, My Dear, the fifth and latest full-length studio album from Say Anything, may not be your favorite album in the band's discography, but you will find your new favorite Say Anything song on it. What this album lacks in consistency, it makes up for in standout tracks that are some of the greatest we've heard from the band. Overall, Anarchy, My Dear is less polished and produced than its 2008 self-titled predecessor.   With the influence of producer Tim O'Heir (The Starting Line, Go Radio, All American Rejects), Say Anything reconnects with the raw emotion that defined their critically acclaimed second album …Is A Real Boy, also produced by O'Heir.
While the three opening tracks are just good enough to leave us wanting more, the energy courses through the fourth track, "Admit It Again." It's been eight years since the prequel to this song, "Admit It," appeared on …Is A Real Boy, but frontman Max Bemis hasn't lost the hipster-inspired rage we heard then. Here's to hoping that hipsters are still around in another eight years to keep Bemis angry and our ears happy!
The album only gets more memorable as Bemis's wife, Sherri Dupree-Bemis of Eisley fame, steps in with guest vocals on the aptly-titled ballad "So Good." Dupree's voice is melodic and soothing, juxtaposed with her husband's, whose "madman persona" shines through even on the sweetest of love songs. She also contributes vocals to another one of the album's hits: "Overbiter," a jam that will have you dancing in mere seconds.
Lyrically, Anarchy, My Dear saves its best for last with closing track "The Stephen Hawking." The repetition of "If you're the sun, I'm a black hole / There must be something in the way you burn that makes me lose control" paired with countless changes in momentum makes for a song as quirky as the physicist it was named for. This nearly eight-minute track is the perfect ending for Anarchy, My Dear, showcasing everything this album has to offer in one epic song.   Despite the slow start and a few mediocre songs in the mix, Anarchy, My Dear is a sure upgrade from the band's last two records. For Say Anything, Anarchy, My Dear is both a step back in time and forward in quality, taking what we loved about …Is A Real Boy and adding a mature twist.
Rating: 4/5
Click here to buy Anarchy, My Dear on iTunes.