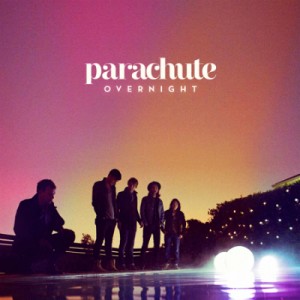 When most people think pop music, they more than likely jump to the female-led ring that usually rules the Top 40's – the Rihanna's, Lady Gaga's, and Kelly Clarkson's of the music world who dominate with their dance-fueled brand of pop. Lest we forget, however, the Train's and Maroon 5's of the popular music sphere, whose goal seems to be blending the tiniest bit of rock 'n roll with good ol' fashioned, radio-oriented pop. Aiming to add fuel to that specific fire, the Virginia quartet otherwise known as Parachute keep up their tireless efforts to craft the perfect pop song with their latest release, Overnight.
With help from producer Oren Yoel (who produced Asher Roth's hit record Asleep in the Bread Aisle), songwriter Ashley Gorley (who's written for Carrie Underwood, Brad Paisley, Rascal Flatts and more), and OneRepublic frontman Ryan Tedder, the band dove head first into the fight for pop dominance. However, with so many hands involved the record does feel a bit overproduced at times, lacking the je ne se quoi of their previous two records. Tracks like "Didn't See It Coming" and "Hurricane," which attempt to explore the more creative sides of pop music, then come across as somewhat hokey. Nonetheless, in the bout to break the charts, catchiness is key and Overnight does have some of the  catchiest songs that are, like it or not, going to get stuck in your head.
Perhaps the catchiest of songs is the lead single "Can't Help," co-written by Tedder (which accounts for its similarity to OneRepublic's latest single "Counting Stars"). The track is a pretty typical romantic power-pop anthem, complete with a chorus of "I can't help myself from falling in love with you" that makes it nearly impossible not to dance in your seat to.  The following track, "Drive You Home," keeps up the pop-hit mimicry, this time with Maroon 5's "Daylight."
If there is one song that sounds similar to the band's past two records, it is "Overnight." It is with this song that a certain quintessential Parachute-like essence is found, and it is certainly welcomed. However, as much as it sounds closer to their previous releases than the rest of Overnight, it still leans much more on the pop side of pop rock. The same can be said for "Hurricane," which has a disappointingly bland yet simultaneously overproduced chorus.
The last song, "Higher," certainly ends the record on a high (pun entirely intended) note.   The gospel-chorus-filled track is definitely and delightfully different than pretty much every other track on Overnight. This time, the production flourishes actually enhance the song instead of detracting from it. The inspirational lyrics of fighting on are sung against a pounding, cymbal-bashing, anthemic beat. The ever-changing peaks and lulls of the song finally build to a hand-clapping backed chorus of "Higher and higher, you're gonna take this higher," that you can't help but get dragged into.
Overall, the record tries to be a perfect, radio-ready, full-of-singles pop album…but too much chagrin for this listener. Overnight seems to be an example of having too many cooks in the kitchen, leaving most of the record overworked and underwhelming. However, the parts that remain underdeveloped by production brandishes are a treat for Parachute fans old and new. As said before, there are definitely some songs on this record that you'll be humming for days.
Rating: 2.5/5