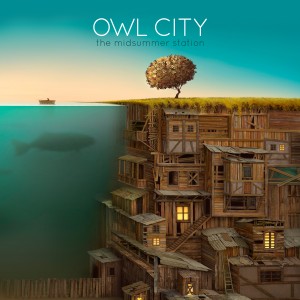 For his forthcoming fourth album The Midsummer Station, Owl City's Adam Young did something he has never done before: he collaborated with co-producers, co-writers, and other artists. Young brought in people like Relient K's Matt Thiessen, Stargate (Rihanna, Wiz Khalifa), and Grammy-winning engineer Robert Orton (Lady Gaga, Darren Hayes), as well as featuring guest spots from Mark Hoppus and Carly Rae Jepsen. The Midsummer Station is a culmination of crisp, finely-tuned vocals, and explosive pop tunes that will delight the moment they hit.
"Dreams and Disasters" is an appropriate opener as it's a high-energy dance song with lighthearted lyrics like "I want to feel alive forever after." Continuing the momentum, "Shooting Star" will have you on your feet by the first chorus. This fun pop-sensible track provides an uplifting message. Toning down the bubblegum pop, "Gold" provides a creative chorus with a sharp attitude.
Young worked alongside Mark Hoppus for "Dementia," a perfect pop-meets-rock tune. Coming from different styles of music, both artists work well together, especially when they battle it out after the first verse. Young explained in a press release that this song documents some of the more psychotic thoughts and feelings about his platinum breakout album Ocean Eyes. "I'm Coming After You," "Speed of Love" and "Good Times" all display the fun and catchy novelty Owl City is known for. "Good Times" is the sweet, summer-loving tune that fans will gravitate to, with Young collaborating with Carly Rae Jepsen to create a flawless end-of-summer jam.
One song fans will find on repeat for hours is "Embers." The lyrics "We're burning bright / We'll shine like the sun so don't let the fire die" are perhaps the most captivating lines on the album and the most well thought-out lyrically. Continuing, "Silhouette" is a more toned-down single written to capture the listener with every word. "Metropolis" and "Take It All Away" close out the album with Young's unique voice and upbeat delivery.
The Midsummer Station is a catchy album with lighter-than-air melodies. Each song delivers a larger-than-life synthpop sound and showcases Young's talent and ability. Find the soundtrack to the end of your summer with songs like "Embers," "Good Times," and "Dementia."
Rating: 4/5