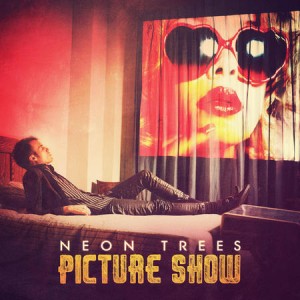 Neon Trees' sophomore album Picture Show serves up a slice of the '80s with smooth synth-pop sound accenting its foundation of rock'n'roll. The album boasts several anthemic tracks that use buoyant melodies to explore relatable themes like rebellion, conformity, and youth. At the same time, the album is weighed down by less-memorable songs which cover similar subjects and sound with significantly less spark.
Picture Show leads with its most memorable material, with "Moving In The Dark" and "Teenage Sounds" joining first single "Everybody Talks" to form a trifecta of attitude-infused tracks that start out the album on a high note. Driving percussion and punk undertones combined with biting lyrics like "I'm tired of everybody trying to be a DJ / Yeah I can also pick my favorite songs and press play" ensure the opening tracks pack plenty of punch. Singer Tyler Glenn demonstrates his vocal power and diversity throughout the album, ranging from moody growling and a monologue in "Hooray For Hollywood" to a heartfelt ballad sound in "Close to You."
Despite the album's solid beginning, many of the remaining tracks fade to the background without leaving any sort of lasting impression. "Trust" stretches on for six minutes with a lackluster instrumental closer that might make your finger itch to skip to the next track, while "Still Young" attempts to stand as the album's quintessential nostalgic track but lacks any actual emotional pull. These tracks, along with a handful of others, fall flat in comparison to the album's powerful lead material.
Overall, Picture Show is a mixed bag of several standout songs to transport you back a few decades and many tracks that fall into the "filler" category. The album doesn't explore growing up in a new or profound manner, but for the most part it will evoke youthful feelings while remaining easy on the ears.
Rating: 3.5/5