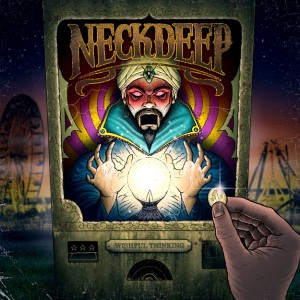 After only two years together, Welsh pop punk act Neck Deep are rocketing towards international success. Already making a name across the UK with their breakneck, tight-knit shows and even playing a handful of dates in America, it is testimony to the power of this band that they were able to achieve so much before their first full-length even appeared. The release of Wishful Thinking sees Neck Deep step up to the plate, proving that the band is ready to take their infectious sound from the UK pop punk scene to the world.
The album gets off to a racing start, with "Losing Teeth" immediately hooking us in over talk of new beginnings. This is certainly something Neck Deep are striving for, with stylistic vocal changes making it hard to distinguish the band's British heritage. The infectious group "woah's" add to the sense of unity, proving the band is ready to go further than ever. "Crushing Grief (No Remedy)" carries on the theme of change, but this time in a true pop punk anthem for the angry and jaded. The winding guitar riffs make this a tune that will be bouncing round your head for days.
"Staircase Wit" looks to the future, with beautiful lyrics over layers of intricate melodies giving the song its edge. Neck Deep have certainly tightened their setup for the better — "Damsel In Distress" continues along this vein, with its upbeat melody and fast lyrics making it the perfect soundtrack for a summer roadtrip.
"Zoltar Speaks" takes a darker turn reminiscent of early The Offspring, asking, "Where did it all go wrong?" It's easy to see the band have poured all their honest hopes and fears into this album, and it pays off. First single "Growing Pains" showcases them growing up with honest enthusiasm; bassist Fil Thorpe-Evans takes precedence here, and the irresistible gang vocals leave no doubt about why this track is bound to be a huge hit in our scene.
The shortest song of the album, "Say What You Want," is a refreshing punk song about life on the road, allowing vocalist Ben Barlow to truly come into his own. But touring constantly can take its toll, with "Mileage" recognizing this with its chants of "The light will dim and we will grow but it won't burn out". The message is clear: Neck Deep are here to stay, looking only to learn and improve. "Sweet Nothings" is another fistful of hope; lines like "My dreams are dark and twisted / But tonight I'm dreaming of you" show the small burning light in the dark, which is only going to get brighter.
Back to angsty pop punk, "What Did You Expect?" is dark and brooding, with only the bridge providing a breather and setting up the breakdown perfectly. This re-recording of one of their most beloved songs truly shows the difference in Barlow's voice and the instrumental maturity of the band, ensuring the new version won't leave older fans disappointed. "Blank Pages" is even more introspective and full of self-doubt. The pressure of expectation has been great, but unsurprisingly, the quintet delivers on this song with ease.
The perfect song to close Wishful Thinking, "Candour" is a response to the hugely popular "A Part Of Me". Graceful, with soaring melodies from Barlow and guest vocalist Laura Whiteside, it shows the band looking back for the first time and finally letting go. The violin and guitar harmonies compliment the raw love and respect in the song, one that clearly shows Neck Deep have stayed grounded while shooting for the stars.
Wishful Thinking is definitely an album about moving on, showing the Wrexham, UK quintet truly getting comfortable in their own collective skin. While this may not be a groundbreaking album in its genre, it surpasses any of the already-high expectations of the band — and if their success in their short two years together is anything to go by, the only way from here is up.
Rating: 4/5