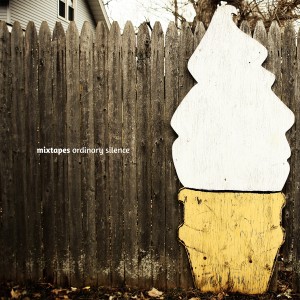 Four-piece Ohio natives Mixtapes channel an old school, timeless pop punk feeling that makes one nostalgic for the early punk scene, riddled with introspective lyrics and power chord-driven guitars. Ordinary Silence deals with emotions as themes, like apathy, happiness, being overwhelmed, and adapting to change. The record is painted with imagery and easily relatable scenarios in the lyrics, sung by angsty young voices and backed by fast drums, but the emotion conveyed in each song pulls the listener in. The songs are generally upbeat and positive about dealing with difficult situations and the span of relatable feelings and experiences in each song makes for a strong and real connection with listeners.
"Bad Parts" begins Ordinary Silence with a straightforward pop punk guitar riff that sets the stage for the classic sound that Mixtapes produce on the fourteen track album. Maura Weaver opens the verse with her simple but direct voice, and the track goes back and forth between Weaver and vocalist/guitarist Ryan Rockwell. The first track talks about taking action and fixing the parts of yourself that you don't like. Weaver takes the lead on the verse: "Then we'll find a way to forget through the years / We wish the bad parts would just disappear / But they're not going anywhere." The closing lyric only emphasizes the point when she sings, "It's time/ We stop saying why/ And make it fucking happen/ Make something happen."
"C.C.S" opens gently with steady strumming and Rockwell's soft vocals, but the track easily opens into a full-bodied sound when the drums and guitar kick in. The album title is drawn from the lyric "I never figured that this silence could be so ordinary," as Rockwell sings about being alone and thinking critically of himself. A recurring theme on the album that begins with "Elevator Days" and finds its way among other tracks is that of blame and self-worth. Rockwell and Weaver continually sing about being okay with who you are and how you feel, even though it's hard to face yourself sometimes.
"Like Glass" is a bitterly sung criticism of cliques that are found pretty much everywhere, even in the pop punk scene. Weaver dominates the vocals on this track and poses the bitter question, "If I sold myself, would I fit in with you?" but the whole song talks about trying to find acceptance when some people only judge you for the clothes you wear and the music you like. Weaver's final verse is the realization that sometimes the friends you made aren't true, and when they leave, you're alone.
"Gravel" is a mid-album acoustic interlude that adds a touch of simplicity to the message concentrated album. However, the song's brevity does not leave it without something worthwhile to say. The uncomplicated lyrics and melody join effortlessly as Weaver harmonizes with Rockwell to sing a plain and simple song that is firmly rooted in reality with the closing line, "Sometimes I'm just happy that I'm alive." Starting strong with Weaver's vocals, "Cheapness" is a short but aggressive track that merges a few thoughtful lines with melody and bitter attitude. The final lines, "If it's the last thing that I do, these words will come out/ I never thought they were worth something, but I do now/ If they expected nothing good from you your whole life/ I hope you expect something from yourself tonight," close the song with a straightforward message about overcoming cheapness.
"A List of Things I Can't Handle" is undoubtedly the strongest song on the album. The track features raw vocals and the album's most honest lyrics about growing up and watching the people around you change. Rockwell sings the verse, "And everyone turned into someone else/ I spent twenty years trying to be myself/ Until I finally realized I don't know who that was" with a coarseness that isn't present anywhere else on the record. It helps this track stand out and drive home his feelings. The song opens quietly with the line "I'm afraid I'll fade away next year," and counters later with "Sometimes it's not so bad just to disappear," which depicts inescapable conflicting emotions.
Closing the record is "Be the Speak that You Change About," a track about the state of the music industry and the faulty mindset that some bands have about success. Rockwell sings, "Most of these bands would sell their souls/ For a four star review and a sold out show/ An opening spot on tour for some washed up band/ I don't think I care anymore," as well as a few other pointed lines. The track ends the record with a sharp criticism, probably intending to ignite change or draw attention, but the feeling comes off as a complaint rather than something constructive.
Ordinary Silence describes the internal thought processes of growing up through fast-paced music. Though not quite as melodic and catchy as previous album Even on the Worst Nights, Mixtapes have still put out a solid record that shows a lot of effort. Still, though the group has released two full lengths with No Sleep Records and a handful of EPs before, their sound is still young. The dual vocals are strained at times, and the backing instruments are pretty basic sounding. Mixtapes have established a solid classic pop punk sound, but it's become too easy to fall into a rut and keep from moving forward as well.
Rating: 3/5