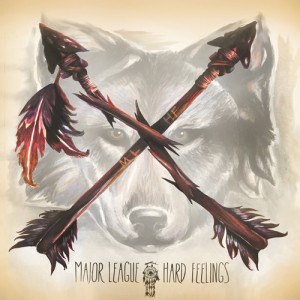 Let's face it, these days pop punk bands are a dime a dozen and it's hard to stand out when all your peers are playing the same chords and singing about the same topics. Enter Major League. These five guys have hit the nail on the head with Hard Feelings, an album full of well thought out lyrics and melodies that are sure to keep the listener enthralled.
Things start off fast with the title track whose sound is a throwback to bands who paved the way for pop punk in the late 90's. "Walk Away" is an undeniably catchy number as vocalist Nick Trask repeats "I never thought I'd hear you say if you love me you will let me go / Then you walked away, you walked away." Fans of Major League's past work will notice the band have constructed a much more cohesive sound this time around, both in lyrical themes and song flow. "Twenty Seven" and  "Arrows Crossed" focus on friendship and growing up, while "Nightmares deals with not having time to be someone's "safety" while trying to work out issues of your own.
The album slows down a bit with "Because Heaven Knows" but picks right back up again with "Pull Me Out." The latter focuses on self-growth, stating, "If home is where the heart is / My heart is never home / I've learned to come to terms / And grown into my own." The guitar heavy "Landslide" describes someone losing control of their life, becoming the very thing they hate. "Home Wrecker" is sure to ensue a few circle pits when played lived as its stifling combo of guitars and drums is hard to resist. The appropriately-named "Final Thoughts" truly culminates the album, with its chorus referencing back to the album title. The track could be deemed equivalent to Taking Back Sunday's "Head Club" as it ends the album the same way Tell All Your Friends closes, saying there won't be any more songs about the particular relationship mentioned on the album, but Major League do so in a less brutal way.
For their No Sleep Records debut, Major League were able to pull out all of the stops. Hard Feelings is not only sonically enjoyable but also extremely relatable. The album showcases everything from growing up to failing relationships to self-struggle. The songs are sure to translate well in a live setting with the ability to get kids amped and moving. While Major League may still be a relatively new band, Hard Feelings easily has the potential to become a classic and will find the band moving up to the big leagues of pop punk.
Rating: 4/5