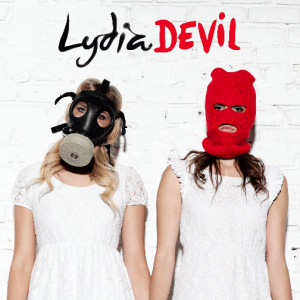 When the news broke that Lydia would be releasing Devil in the spring, I wasn't too sure what to expect. Their music feels better suited to winter days and hot chocolate (or whiskey) by the fireplace. It's safe to say that there is a section of fans still wanting Lydia to release something very similar to the much-loved 2007 album Illuminate that brought about those feelings. This will not be the record for those fans, and they probably won't ever see that album — Illuminate was released quite some time ago, and the band has undergone some major changes since then. Despite the dark name and odd artwork, Devil is the cheeriest effort the band has released to date, and it will be a mainstay for those warm days and chilly nights by the fire this spring and summer.
Right from the get-go with opener "The Exit," it's noticeable that something is different — the piano intro isn't morose, it's joyful and full of life. Vocalist Leighton Antelman sings, "Let's have some fun," and that's exactly what he and the rest of the band do throughout the rest of the record. "Runaway" and the title track continue this sunny trend, with "woah-oh" sections in the former that are catchy beyond reason and some of the happiest lyrics the band has written in the latter. Single "Knee Deep" could be considered the song closest to the band's older material, but it still stands out incorporating swirling guitar riffs and blossoming choruses. Arguably the poppiest track on the record, "Hurry Back Tonight" is the kind of song you could see a crowd really getting into at a show using infectious "come on, come on" sections, fun guitar riffs, and syncopated, dance-like drum rhythms that would make anyone get off their feet.
One of the best tracks from Devil would have to be "Take Your Time." The dirty, gritty attitude of the guitar riff is completely unexpected, but as quickly as it appears, by the chorus the song transforms into a sunny tune much like the first few tracks. The gritty guitar comes in and out of the song, slowly disappearing by the end and leaving the listener with a smile on their face. Antelman's songwriting abilities have only progressed since This December… and Illuminate, and it's tracks like "Take Your Time" that show this. At first, I wasn't too sure about the album — but it was this track that kept bringing me back in for another listen.
Filled with grandiose instrumentals matched with Antelmen's angelic voice that would relax even the tensest of souls, taking the risks the band did on Devil could have been a huge flop, but it turned out to be a fantastic change of pace. If This December… and Illuminate were Lydia's fall and winter, beautiful but blue, then Devil would be its sunny and warm counterpart.
Rating: 4/5