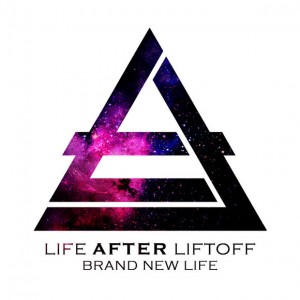 Although their new EP Brand New Life only has three songs, Life After Liftoff have a sound as big as the town they're from. The four-piece from Dayton, Ohio try to use their cheerful sound to spread a positive message to the adolescents their music is aimed at. However, despite their promise, they have to work harder to break out of their genre and become a distinct voice.
With only three songs to prove themselves, the band's energy had to be focused on capturing the audience's attention while also standing out and showing they have something to contribute. With lyrics that support a positive lifestyle, "The Getaway" is a catchy, upbeat tune with hooks you'll hum to, but listeners might find themselves wishing that Life After Liftoff could getaway from the generic pop rock sound they have taken on. "A Brand New Life" continues with the same sound but features a piano to give it a softer feel than the other two songs. A spoken word intro attempts to make "Atmosphere" into an epic track, but the band quickly fall back into the mold of their genre. The interplay between the main and backing vocals comes out during this track – vocalist Lee Weiss breaks things up with his own voice while the rest of the band repeats "Keep spinning / Keep spinning away," a dynamic they could play with more. All three songs are enjoyable but stick too closely to the script written by pop rock bands like Angels & Airwaves instead of trying something new.
With its catchy tunes and positive message, Brand New Life  has the potential to be a hit with fans of pop punk and pop rock everywhere. However, Life After Liftoff will have to work hard to break out of their mold before they can have a brand new life of their own.
Rating: 3/5