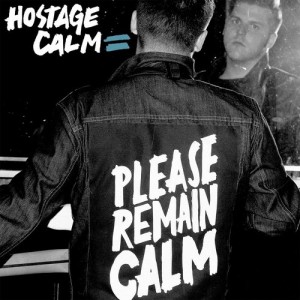 The idea of the American dream has been around just as long as the country has, and as times have changed, so have people's perceptions on what that dream is. There's the materialistic take on it, but also that of social order and having a certainty of what lies ahead. On Please Remain Calm, Hostage Calm take us on a modern-day journey through a decline in America where even though there is a sense of desperation and uncertainty, the idea of the dream is never completely lost.
For their third release, Hostage Calm have been able to tell a story through a string of songs that seam together while also being able to stand apart on their own. Opener "On Both Eyes" depicts fighting to get by with no time for love or complaining, while "Don't Die On Me Now" takes that fight and turns it into the will to keep your head up and strive to move to a better place as the world seems to be crumbling around you. Singer Chris Martin supports his words with clean, crisp vocals, a notable change from a rougher tone found in the band's previous material. That isn't to say Hostage Calm have lost their edge, though – their punk roots and ability to transgress throughout a song are still intact.
"Brokenheartland" is a faster-paced track leading nicely into "Woke Up Next To A Body," which will get engraved in your mind thanks to guest vocals from Greg Moran of Connecticut's Baby Grand during the chorus. "Impossible!" draws on a dance groove similar to that found on the band's self-titled album as Martin declares, "From these troubled states to the Middle East, the youth of the world are alive in the streets," with the upbeat sound continuing into "May Love Prevail." Previously-released "The 'M' Word" gets a makeover, being turned into a ballad accompanied by string and brass instruments. The theme of struggles with youth continues, notably with the line "It's a sad time to be young, knowing the worst has just begun."
The last three tracks on the album serve to be the most diverse and see the band pushing into new territory. "Patriot" is an a capella number with a Beach Boys-meets-barbershop quartet sound. This may seem like a risk coming from a punk-driven band, but this unexpected song turns out to be one of the highlights of the album. Every record has that one song that is just irresistibly catchy, and with its standout guitars and strong vocals "Closing Remarks" proves to be that song for Please Remain Calm. Closer "One Last Salute" serves as a sendoff to both the story and the album. The song is able to flawlessly change through sound and tempo without coming across as messy. It holds onto the idea of the American dream with lines like "You still say the dream doesn't die, it just walks away / You don't chase and pray it does not disappear / It's never looked farther than here."
Please Remain Calm stands as an anthem for a lost generation. In a time of questions and heartache, the band rises to the occasion to capture the story of the youth in a dwindling nation. Following in the footsteps of bands like Crime In Stereo, Hostage Calm are able to effortlessly change and transcend their sound each album while still sticking to their core values and not losing touch with their fan-base. Working with producer J. Robbins (Against Me!, The Promise Ring) has helped the band reach a new level with layers of harmonies and a full, intricate sound spanning influence across decades. This year has been particularly groundbreaking music-wise and Hostage Calm have risen up the ranks and released a strong candidate for many listeners' album of the year.
Rating: 5/5