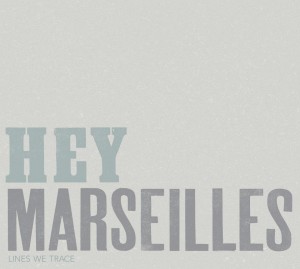 Seven might seem like an excessive number of band members, but the second record from Seattle natives Hey Marseilles encapsulates every subtle nuance each of those members contributes to the folky Gallic-pop sound the group became known for with their 2010 debut, To Travels and Trunks. With Lines We Trace, Hey Marseilles have capitalized on the success of other folk-based bands such as Mumford & Sons and The Lumineers while still aiming to keep their music sounding original.
Opening track "Tides" kicks off the album with a Parisian feel in an introduction full of woodwinds and strings before vocalist Matt Bishop jumps in with a soft yet soulful sound, singing, "Go back where we started when the sun was angled right." Lines like these showcase the story-telling lyrical style found throughout Lines We Trace. The strings through the duration of the song fill the track with mystery, meaning, and melancholy.
The lyrics are noticeably mature, sounding years ahead of this relatively young band. The following track "Heart Beats" sounds both very familiar yet delightfully different. The verses remain quiet and subdued with Bishop's vocals lightly complemented by acoustic guitar riffs and hushed strings before the percussion-driven chorus breaks away, uplifting the song from a simple folk tune to a pounding declaration of blustery emotional turmoil.
The album also draws from classical influences, as seen in the track "Elegy" with its pizzicato waltz tempo and sweeping vocal melodies. The following track "Bright Stars Burning" immediately begins with the lyrics "Don't rely on things you read on highway signs or magazines" and has a much more modern alternative sound and feel than the preceding track.
This contemporary tone is contrasted by the following two tracks, which again pull from classical roots. "Building Glare" opens with a clashing piano/guitar intro, while "Madrona," a very poignant and entirely instrumental track, feels very much like a nod to Polish composer Frédéric Chopin.
"Café Lights" mimics the Parisian feel heard before in "Tides," but feels much more worldly and panoramic, the theme of travel and discovery played up in the lyrics with talk of tarmacs and baggage claims. This track drives home the message the album strives to deliver — that sometimes the most memorable experiences we have are made at home.
The album concludes with another instrumental track, "Demian." This operatic piece, with its undulating string sections and despondent piano sound, does its duty to end the album on an incredibly finite note, while still pleading with the listener to instantly go back and replay the entire album (which is very much recommended). This record, while at times feeling like an almost-copy of similar records before it, stays true, pure, and focused in its message, delivered both lyrically and instrumentally. Overall, the album is flowing, dynamic, and orchestral. Lines We Trace is definitely a go-to for fans of Irish folk, classical, and melodic pop alike.
Rating: 4/5
by idobi contributing writer Taylor Lima