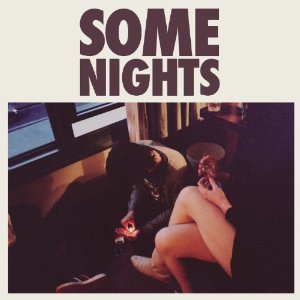 fun.'s second album Some Nights resonates with haunting lyrics and experimental melodies to drive the band's sound in a novel direction. The album covers every feeling from self-doubt to optimism to regret and provides the listener a glimpse into the shadows of singer Nate Ruess' mind. Each track is like a day on the calendar: a unique journey full of pain and joy.
Opening track "Some Nights" immediately draws the listener in with chilling vocal harmonies and a strong backbone of tribal drums. Forceful crescendos give way to wistful breakdowns in which Ruess wears his heart on his sleeve lyrically. The melody captivates with volume and tempo changes, and serves to make "Some Nights" one of the most moving tracks on the album.
The chart-topping first single "We Are Young" deserves all its acclaim, with infectious percussion and a chorus of passionate chanting begging to be blasted at full volume. It's an anthem of youth and adventure, a song to belt out with your closest friends as you promise not to grow a day older. The album slows with the next track, "Carry On," which showcases a classic fun. trademark with its beautiful piano introduction. As the title suggests, the song lends hope to the theme of the album. The guitar solo halfway through the song allows the optimism to soar to invincible heights, as Ruess sweetly croons throughout.
The album's experimental nature emerges during "It Gets Better," mainly because the track boasts obvious hip-hop influence. fun. teamed up with producer Jeff Bhasker (Kanye West, Kid Cudi, Jay-Z) for this album, and he adds a new flavor to fun.'s indie pop sound. "It Gets Better" is both mechanical and punk, a disorienting yet delightful experience. "All Alone" also builds upon a hip-hop frame, with a background one might expect in a mainstream radio jam rather than a fun. tune.
"Why Am I the One" and "All Alright" put a dent in the album's mood with a lack of power and impact. Not even the plaintive vocals in the former or the tender violin runs in the latter are enough to make these tracks particularly remarkable. The album's pace picks back up with "One Foot," which is backed by a wall of brass instruments. It demands attention upon the first few listens, but after a while, simply doesn't have staying power. However, everything comes together with the album closer, "Stars," which is introspective with a melody constantly in transit. It may not be as musically profound as earlier other tracks, but it sums up the feeling of the album well and ends things off on a high note.
Life is fleeting and the struggle to evoke meaning from life is a daily challenge. Some Nights takes listeners on fun.'s journey to explore the earth and the stars for answers to some of humanity's most difficult questions. The album's new musical direction may shock listeners at first, but fun. have not lost any of their musical charm as they push their sound's boundaries to the limit.
Rating: 4.5/5
Click here to buy Some Nights on iTunes.