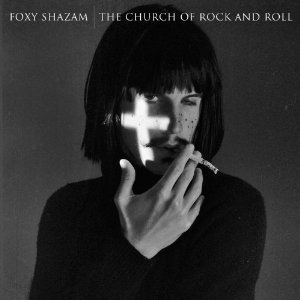 Who's ready for a little shazam in their life? Mix in a little 1980's head banging and theatrical vocals and you get the one and only Foxy Shazam. The Ohio rockers just released the powerful, The Church of Rock and Roll, a Queen meets The Rocky Horror Picture Show blend. Lead singer Eric Sean Nally delivers vocals reminiscent of his idol Freddie Mercury, but with a distinctive twist. This rock and roll band brings tremendous energy into each song with a combination of piano, guitar, vocals, kickdrum percussion, and even a trumpet.
The first track, "The Church of Rock and Roll," sets the mood with surprising high-pitched vocal runs and trumpet solos. Following, there is a smooth transition into the lead single, "I Like It," with a new music video released just last month. This track is one word: fun. In fact, it's already blowing up on YouTube with over 364,000 hits to date.
In "Holy Touch" and "The Temple," Foxy Shazam takes on classic rock and roll. "Holy Touch" will be the biggest crowd pleaser, with a memorable chorus to leave concertgoers singing this song over and over for days. "The Temple" dives into a very personal story and is the one track on the album that showcases the band's outlandish yet talented antics.
"Wasted Feelings" and "(It's) Too Late Baby" are powerful overheated numbers with extraordinary guitar riffs, killer trumpet solos, and piano driven verses. These tracks will get the crowd moving, jumping, and dancing to every beat.
But The Church of Rock and Roll is not all about power and rocking out.  Foxy Shazam do an excellent job showing their sweet jazz-style capabilities in "Last Chance at Love," "The Street," and the unexpected ballad, "Forever Together." And the remaining tracks, "Freedom" and "I Wanna be Yours," are exceptional and add diversity to the mix.
If you have not seen this band live, make sure to check out their tour dates and see when they will be hitting a city near you. Foxy Shazam have a live performance you won't want to miss.   More than a concert, it is a true  performance, filled with energy, love and passion that perfectly reflects The Church of Rock and Roll.
Rating: 5/5 (for striving to be different and making it work both on CD and live)