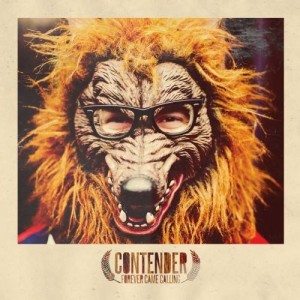 California's Forever Came Calling brings you Contender, an album you'll be sure to have on repeat. With the band gaining a lot of momentum recently, Contender proves exactly why they've garnered so much support. Fast-paced and sure of themselves, this album puts the hard work of this quartet on display.
From the get-go, listeners will have no trouble figuring out what an energetic record Contender is. "Learning" is just under a minute, opening the album and easing effortlessly into "For the Wolves," another short song packed with energy. Are you sitting down? Not for long — "Harbours" will have you out of your seat and dancing in no time. Vocalist Joe Candelaria has a pleasant voice that listeners will have no problem latching on to, shining especially strong on songs like "The Office" and "I'll Be Better I Promise." With that classic pop punk sound, you'll wonder if this album wasn't playing in your CD player years ago.
Candelaria might take the spotlight most of the time, but the rest of the band finds time to stand out as well. Bryce Esquivel, their drummer, has no problem handling himself on tracks like "Ides" and "Contender," meshing well with bassist John Swaba and guitarist Ron Grieger. "Ides" seems clustered at times, but it only adds to the punk aspect of the band. "If Bukowski Could See Me Now" kicks off with some sweet guitar riffs and features great vocal harmonies among the band, while "Front Porch Sunrise" and "Dead Poets Honor" take pop lyrics and give them some spunk. Consistent throughout the album is the level of performance — all of the songs have no problem keeping up with one another.
With an overall energy that flows freely throughout the album, Forever Came Calling prove they deserve a spot in your playlist. A nostalgic sound both old and new listeners can both enjoy, Contender brings some of the best styles from the early 2000's and gives them a safe haven. With a pop punk style and a vintage sound, Forever Came Calling take one step further towards the limelight with this album.
Rating: 3.5/5