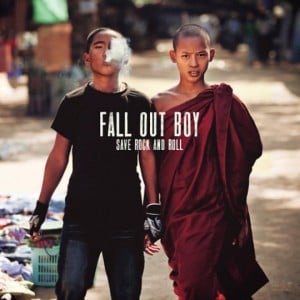 If Fall Out Boy's hiatus was truly a marketing scheme, suffice to say it worked. It's been four years since their last album release and fans are still clamoring for new music, an honor that few bands who return from hiatus are able to receive. As their comeback album, Save Rock and Roll is probably one of the most important albums in their career. They have allowed four years of anticipation to build and now they are expected to deliver. Such a vital album cannot be taken lightly, especially one with such an ambitious title. When the band posted the full stream online, their only instruction was "please listen closely." I took that to heart and have kept Save Rock and Roll on constant repeat, analyzing every aspect of it and trying to understand what this band is now. It was obvious from their last release that Fall Out Boy is no longer just another basement band rolling out sloppy yet charming pop punk. They have evolved into a slick, complex powerhouse of a band, and they prove it by unleashing all their talent on this new album.
The album explodes out of the gate with an intense, urgent orchestral intro on "The Phoenix," already foreshadowing the epic proportions of this record. This track is a call to arms to all their fans that they have returned and are going to war with their music. Patrick Stump takes control with a newfound confidence and enunciation in his voice; the marbles that were stuck in his mouth have all fallen out and every lyric rings out with purpose and passion. The adrenaline rush induced by the bombastic drums and massive, anthemic hooks continues into lead single, "My Songs Know What You Did in the Dark (Light Em Up)," leaving listeners overwhelmed by the amount of energy the band managed to cram into two songs. Both songs will be thrilling to witness live.
From there, the album turns toward a more pop-oriented, radio-friendly tone. The catchy, R&B-tinged "Alone Together" is sure to become a youth anthem with lyrics ready-made to be plastered all over Tumblr, as Stump sings, "Let's be alone together / We could stay young forever / Scream it from the top of your lungs." "Where Did the Party Go" contains a "Na, Na, Na" line that will ring in your head for days and a chorus that makes you want to dance rather than mosh. If any old fans are left disappointed by the amount of pop injected into these two songs, the band reconciles on the Folie à  Deux reminiscent "Just One Yesterday," one of the standout tracks on this record. The track opens with a bluesy riff that has currently found ample success in the mainstream (The Black Keys or "Rolling in the Deep" anyone?), yet this song is a prime example of why Stump is one of the greatest singers today. He easily transitions from falsettos to low notes loaded with vibrato, while Foxes' guest vocals provide a refreshing juxtaposition.
An amalgamation of hip hop and rock and roll, "The Mighty Fall" allows Joe Trohman's guitar work to shine – unfortunately at the expense of Big Sean's feature, as the two seem to clash later in the bridge. It might have been better to expand upon the guitar solo instead of squashing it under the rapper's lazy inflections as he borrows from Simple Plan, "Hell yeah I'm a dick, girl / Addicted to you." The band then ditches the guitar on synth-rock "Miss Missing You," whose vulnerable sentiment is a welcoming change from the slight arrogance of the track before. It is the closest thing on the album to a conventional love song, yet retains the band's unique flavor thanks to Pete Wentz's lyrical gems like "The person that you'd take a bullet for is behind the trigger."
After somehow managing to successfully implement a dubstep breakdown into "Death Valley," the band unplugs for another highlight track, "Young Volcanoes," which sounds like the band is sitting in your bedroom playing right next to you. The soaring chorus provides yet another youth anthem, continuing the theme of emerging from fire introduced by "The Phoenix." Despite a raw punk cameo from Courtney Love, "Rat a Tat" falls flat for me. I had hoped the band would follow Love's lead for a sloppy, passionate track, but instead they opt for a polished mid-tempo chorus which makes the song forgettable. Any grievances throughout this album, however, are forgiven on closer "Save Rock and Roll." While Stump may be one of our best vocalists, Elton John cements himself as one of the best of the previous generation. His regal timbre produces by far the best feature on this record. Defiant and passionate, "Save Rock and Roll" puts any fans' worries to rest, asserting "Oh no, we won't go / Cause we don't when to quit, no." In the end, we are left satisfied and looking forward to what lies beyond this record.
Fall Out Boy will never get rid of their haters. There will always be those Take This To Your Grave diehards who will criticize the lush, elaborate production and question why the hell Big Sean is featured on this record. Yet there will also be those who are willing to put aside these boundaries and expectations we constantly lock bands into, and simply acknowledge that Save Rock and Roll is a well-rounded, conceptual record with eleven unique songs, all of which contain insanely catchy hooks. Yes, Fall Out Boy played a major role in our childhoods in introducing us to pop punk, but they have grown and progressed into something much more. It's important to understand that Fall Out Boy returned not to defend pop punk, but to save rock and roll.
Rating: 4/5