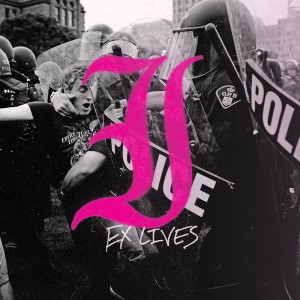 An Every Time I Die album always packs a punch (or makes you want to punch someone!) and the band's latest release Ex Lives is no exception. In the broad spectrum, there are blazing guitar riffs, pounding drums, and screams galore. But inside that exterior, the album contains vocalist Keith Buckley's most personal lyrics to date.
Opener "Underwater Bimbos From Outer Space" launches a full-on auditory attack as Buckley wails, "I want to be dead with my friends," until the phrase is etched in your brain. "Holy Book of Dilemma" and "A Wild, Shameless Pain" continue the assault, each clocking in at under two minutes. Guitarists Jordan Buckley and Andy Williams shred throughout "Typical Miracle," while Ryan "Legs" Leger provides the backbone of the song on drums. Keith Buckley's range shines on "I Suck (Blood)" as he effortlessly moves from heavy screams to clean vocals.
Never ones to stray from doing the unexpected, "Partying Is Such Sweet Sorrow" starts off with a banjo and leads into a tale about drinking and the devil. "The Low Road Has No Exits" is easily the track on the album most reminiscent of the band's earlier releases with its upbeat tempo and clever lyrics. "Revival Mode" throws fans for another loop as Keith sings, "Thanks, Lord, but I don't need any more poor advice," over drawn-out guitars. The slower vibe of the song doesn't make it rock any less, though, as it features a shredding guitar solo by John Christ of Danzig fame. "Drag King" and "Touch Yourself" bring things back up again, the latter being perfect to stew up a few circle pits during the band's live show. Closer "Indian Giver" hypnotizes the listener with haunting undertones and dark lyrics about death.
Ex Lives won't leave the listener wanting more, as every track is perfectly crafted to want to hear over and over again. Working with producer Joe Baressi (Queens of the Stone Age, Bad Religion, Coheed & Cambria)  really upped the ante, bringing a new aesthetic to the songs while still holding onto that classic Every Time I Die sound. With Ex Lives, ETID bring on an onslaught of raw emotion, southern twang, and riffs  that will incite riots. This whole package combined will make your organs crawl out of your skin from its utter monstrosity.
Rating: 4.5/5