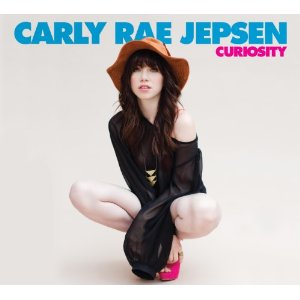 Curiosity is the new EP from Canadian singer-songwriter Carly Rae Jepsen. In 2007, Jepsen placed third on Canadian Idol and recently signed with Justin Bieber's manager, Scooter Braun, on Schoolboy Records and Interscope. Curiosity already has fans crushing and the EP hasn't even dropped in the US yet. Once it does, expect middle school girls (and boys) wearing Carly Rae Jepsen t-shirts, backpacks, everything — this girl is the next big pop crush. If you are looking for the catchiest tunes to blast with your friends, this is the EP for you. However, lyrically, if you are looking for song meaning and depth, you won't find them here; the lyrics are very childish but seem to work with the music nonetheless.
The opening track, "Call Me, Maybe," is by far the strongest on the EP. Released in the US in late February, the video already has well over twenty-two million views on YouTube and has hit #1 on Billboard's Canadian Hot 100 chart. This song is catchy, amusing, lovable, and more — and the music video is even better. With a memorable chorus, it is no wonder pop stars Selena Gomez, Justin Bieber, Big Time Rush, and Ashley Tisdale made a spoof video to help promote the adorable track.
"Curiosity," titled after the EP, brings the same lighthearted vibe while touching on a more personal note. This song encompasses the feelings of a girl fighting to keep her relationship alive while struggling with the ever-present curiosity of "what ifs." Keeping to the same beat, the following track "Picture" is sure to be another fan favorite. The song focuses on patience in a relationship — never an easy thing to talk about. Although she chose to keep the song as a ballad, it works within the mix of the other more upbeat pop songs. Jepsen's strong vocals bear a striking resemblance to Kate Voegele's early work. Back to the pop upbeat songs: "Talk to Me" and "Just A Step Away" both showcase summer love, teen love, and that first crush.
Although the last song, "Both Sides Now," is another ballad, Jepsen shows off a more raspy delivery that doesn't appear on the rest of the EP. The original, recorded by Joni Mitchell in 1969, has been a popular cover song over the years, with everyone from Frank Sinatra to Susan Boyle . Jepsen offers a unique version that will attract a new generation to this widely recognized hit.
Overall, Curiosity is one of those EP's that will have teens everywhere buzzing. This EP, especially the irresistable "Call Me, Maybe" will entice you to turn your radio up, put the top down, and blast the tunes all day long. If you are looking for fun, lovable songs to make you smile, this is your go-to mix.
Rating: 4/5
Click here to buy Carly Rae Jepsen's music on iTunes.