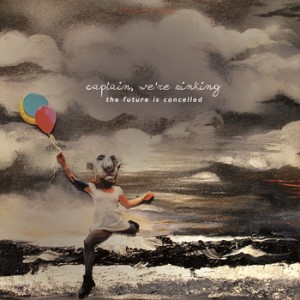 Punk music has always been iconic for its honesty, raw emotion, and power. It is music that incites, renders hope, and inspires. This ethos is firmly reinforced by Captain, We're Sinking with their new release, The Future Is Cancelled.  As if the album name wasn't foreboding enough, the record itself is a collection of desperate, too-close-for-comfort stories that are driven by unexpected instrumental complexities, troubled vocals, and pure punk grit.
Vocalist Bob Barnett is the brother of The Menzingers' own Greg Barnett and, naturally, their vocal execution is strikingly similar, yet Bob offers a distinct sense of urgency in his delivery (think Soupy Campbell meets Jesse Lacey). He can alternate between a tortured quiver and a despairing scream, a cathartic contrast that exemplifies the melodramatic yet optimistic vibe of this album.
"Adultery" begins with a cymbal crash and wave of feedback that reminds me of being in a overly crowded basement of misery and PBR cans (in the best possible way).   Frantic, dissonant instrumentals carry into the verse, which sound creatively neurotic and personally invasive – I feel as though I'm eavesdropping on a personal conversation that I should not hear. The chorus hits with artful punk pride, hailing the infectious hook, "They're in my head," as an involuntary response to the desperate calls of Barnett. The song ends where it began – with screeching feedback that makes you feel depleted.
"Brother" is tonally and lyrically more optimistic, combining unorthodox rhythms in a major key with reassuring lyrics: "Things just have to change/ My brother are you okay?" Addressing issues of alcoholism and anxiety, this track is emotive on a very realistic level that is ubiquitously relatable.
One track that deserves great attention is "Lake." Beginning with a minimalist approach, Barnett sings quietly over a strummed clean guitar. Drums kick in with a gritty, distorted guitar which carries into a haunting pre-chorus riff – foreshadowing the heavy, angst-ridden chorus perfectly. This song contains arguably the most relatable and inspiring lyric on the album: "Even though my heart is made of glass and it's already been smashed, I'd give all of the pieces to you." The last chorus ends in a heart broken scream that could have easily closed the album.
Tracks like "Annina, We Will Miss You" and "Montreal" provide frenetic and gut-wrenching ensembles that should not be overlooked. The latter features an unexpected female vocal ("Have you seen my life? / It's like I don't even try").  "Here's To Forever" reveals a more pop punk aesthetic that would hook in a fan of The Wonder Years or Jimmy Eat World. Each song carries its own sense of defeat, executed with an amalgam of genres and styles.
The Future Is Cancelled  is one of the best punk records of 2013 thus far. It is natural, genuine, and articulately passionate. The versatility and authenticity displayed on this record places Captain, We're Sinking on a level above their contemporaries.
Rating: 4.5/5