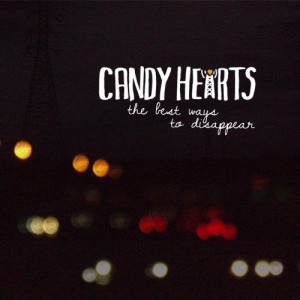 Candy Hearts are a female-fronted pop rock band hailing from the northeastern US with an upbeat style that's certainly an attention-grabber.  Their most recent release, an EP entitled The Best Ways To Disappear, was produced by New Found Glory's Chad Gilbert and reflects the band's unique style, although one can only wonder what could have been if the band had taken more risks.
"Bad Idea" kicks the album off with a catchy beat and high energy that will leave listeners with high hopes. However, its vocal constriction paired with the somewhat cliché lyrics makes it feel like the band's potential is being held back.   "Matchbox" puts the record back on track as lead singer Mariel Loveland shows off her vocal range moreso than in the track's predecessor.  This, along with its contagious, danceable energy, makes for what turned out to be a personal favorite.  "Miles and Interstates" maintains the fun, lighthearted spirit created by its forerunner, despite its musical similarity to the previous two tracks.  However, "Replacement Parts," leaves listeners desperately longing for something different already, continuing a similar musical pattern as the band disappointingly sinks back into a lull of flat vocals and unimpressive range.
"Sick Of It" satisfies this longing as it slows down the pace of the EP to a melodic pairing of acoustic guitar and Loveland's soft vocals, adding variety to the record to rekindle listeners' interest. The song progresses into a full-band composition that does the band much more justice than before, delivering a message of perseverance and positivity. Closing number "Ticklish" keeps up the positive energy and closes the EP with one of its strongest tracks. With its catchy beat and a chorus that will be stuck in your head for hours, this is another dancing song that is sure to win over the hearts of some new fans.
Despite its slow start, The Best Ways To Disappear makes for a solid third release by a band that's sure to make a lasting impression on listeners.   "Matchbox," "Sick Of It," and "Ticklish" are must-haves for their memorable spirit and best demonstrate Candy Hearts' musicianship.  Of course there is some definite room for improvement in terms of the versatility of the record as a whole, and one can only hope that Loveland will show off her range more often, but the band are certainly on the right path to success.
Rating: 3.5/5