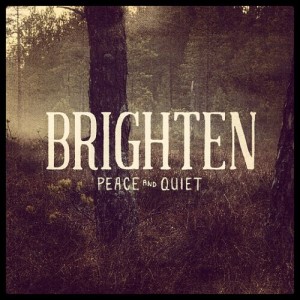 Although overshadowed by other projects in recent years, Justin Richards, Jimmy Richards, and Alex Draper of Brighten have managed to keep their original band alive through a tight-knit devoted fan base. After putting out several EP's over the years, Brighten have finally released their first full-length in over five years since their 2007 debut King vs. Queen. Following an EP consisting of mostly plugged-in instruments, Brighten returns to their roots of acoustic guitars and honest, passionate songwriting on their new record, Peace and Quiet.
The album opens with "I'll Be There," which basically encompasses classic Brighten: it starts with a sole acoustic guitar and Justin Richards' calm, soothing voice gently filling your ears. Melancholic and pleasant, this track immediately proves that Brighten still haven't lost their touch. Improvement in Richards' vocal quality is evident in the increasing amount of falsetto on the entire record and the band also implements a lot of strings this time around, finding an interesting sonic balance in grandiosity and simplicity. Lyrically, the band remains candid and comforting as Richards croons "It's gonna be a long hard ride / I'll be there." Uplifting and sincere, this song is a prime example of how music can truly help people when they are feeling down.
The next song, "Let Love Be," incorporates more pop sensibilities while still retaining the band's natural, organic character. This song is also one of many love ballads on the record, yet Richards masterfully avoids sounding like a cliché every time. "Little Locket," another love song, is probably the most unique track on the album. Richards sings the entire song in an ethereal, dreamy timbre that effortlessly floats over the strings and guitars. The song ventures away from their down-to-earth pop rock and more towards the vein of Bon Iver and Iron & Wine. Sad and sweet, this song is definitely a highlight in Brighten's career.
The band inches closer to the realm of country in some of the latter songs. With twangy guitars and fuzzy snare drum hits, "Never Alone" is basically the equivalent of a Taylor Swift song but written by older, more mature males. Positive and encouraging, this song is the perfect break-up song for every teenage girl, ensuring them, "You're as good as it gets / Have no fear my dear / You will never be alone." Richards sings so earnestly and assertively that you can't help but believe every lyric he utters. "We Won't Go In Peace" is one of the darker, more ominous songs on the album, augmented by a steady bass line underneath Richards' defiant lyrics. Also emanating a strong country vibe, this song spawns images of the Wild West where Brighten are the cowboys defending the frontier. "Saviors Son" continues the Western theme and effectively serves as part two of "We Won't Go In Peace," after the dust has settled.
"I'll Carry You" is a catchy, sincere piece that sounds like it should be sung around a campfire with your closest friends. Once again, Richards utilizes his magical ability to hook the listener with every word he sings, promising them that everything is alright. "Little Old Me" proves to be the perfect closer – a simple acoustic song addressing not only the imperfections of humanity, but also potential of every human being to impact the world. The most inspiring song on the record, it makes you believe you can accomplish anything if you put in the effort.
Truly living up to the album name, these ten peaceful and quiet tracks manage to both sooth you and make your heart swell. On a good day, these songs will inspire you to improve both yourself and the world around you. On a bad day, these songs will console you and encourage you to never give up. Six years after their first full-length, Brighten still manage to craft honest and meaningful songs deeply relatable to everyone. Delightfully simple yet powerful, Peace and Quiet takes its listeners on an emotional journey guaranteed to drop them off at the end with a refreshed, confident outlook on life.
Rating:  4.5/5