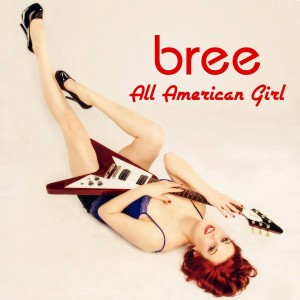 There's familiar, comfortable classic rock, and then there's edgy and energetic Bree, who brings a sharp feminine twist to the tried and true style of rock and roll. She sings with confidence and attitude, and adds an element of fierceness as bright as her red lipstick and flying V guitar. Despite a tumultuous past — spanning growing up in a religious cult, the loss of her mother at age six, and living on her own at seventeen — Bree has adapted to constant change and faced her difficulties through music. Her first full-length All American Girl  is a rock anthem record that will be a solid foundation for her future in music.
Opening track "I'm the Boss" shows off the bold energy that embodies the entire album. Though her style is traditional and perhaps overly simple, Bree dominates with her strong vocals. The musicianship behind the vocals is clean and minimal, with nothing more than the classic rock chords backed by a rhythmic drum and cymbal. Immediately following,
"You Can't Take the Heart Out of Me" starts off with a serious rock riff but lightens up as soon as the vocals enter. Bree belts out the chorus that showcases her fiery personality and vocal range. Notably, she employs a gritty rasp occasionally throughout the song that gives her vocals a richer character. It seems like a tiny feature, but a little more of that coarseness would add more dimension to her voice and enhance the sound of the record.
"Whisky" is a hotter, coastal sounding rock song. Opening with a bouncy bass line and a series of staccato taps on the drums, this track feels light and casual. Bree persuasively sings, "But you can't, but you can't resist me/ When you drink whisky," giving the track a bit of allure through the lyrics. The surrounding songs on the track list "Forbidden Fruit" and "Do You Wanna Love Me" feel similar as they describe affections and infatuations. Going for a touch of heartfelt but upbeat rock, "I Hope You're Smiling" keeps the album upbeat though it refers to the loss of her mother. Bree sings the chorus, "Mama, wherever you may be, I hope you're smiling, watching over me," allowing the song to remain hopeful despite the emotional subject of the lyrics.
The dance rock anthem of the record is undoubtedly "Dance All Nite (With My Finger In The Air)." Bree jams out some catchy riffs on her flying V guitar and sings at the top of her lungs on this high tempo, nothing-but-fun track. Background vocals echo the melody for
the feel of a pop chorus as she sings, "Turn up the radio, stomp your feet/ Gonna have a party right here in the street/ I raise my drink to the sky, cause I don't care/ I wanna dance all night with my finger in the air." Lastly, "Not Today" closes the record with the same feel and attitude of opening track "I'm the Boss." The chorus resonates with Bree's rocky past, but mirrors the hope and determination she has for the future. She sings the chorus, "I'm gonna smile at every rain cloud / Laugh at every obstacle in my way/ I'm gonna play my music so loud/ And I ain't gonna listen to a single word you say" with more feeling than ever, ending the album on a high note.
Overall, All American Girl is an energetic rock record, with some catchy hooks and classic riffs to accompany the talented vocals. The lyrics are simple and keep the album casual and easy, even if not entirely memorable. Her first record is still young and fresh, but with a little maturation, experience, and fine-tuning, Bree's powerful voice and unquestionable attitude give her the potential to go far in her genre. Though her self-titled debut is just that — a debut — Bree will still be one to keep an eye on in the future.
Rating: 3.5/5