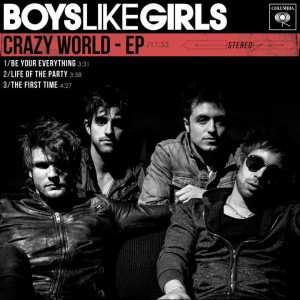 Coming off their 2009 release Love Drunk, Boys Like Girls took some time to revisit their sound and approach to songwriting for their upcoming full-length Crazy World. To give fans a taste, the band released the Crazy World EP, which may surprise listeners at first. The three tracks switch up the traditional Boys Like Girls pop rock sound with a more country influence. Singer Martin Johnson explained the change in a recent interview: "Musically, I think, some of the best songs are on country radio and not pop radio. I think the songwriting is really strong and the stories are told in such a unique way. It's a huge influence and always has been for Boys Like Girls."
The band used their time between albums to record in the heart of Nashville with some of today's biggest country superstars, allowing them to perfect their new country sound while still staying true to the way they've always been. The Crazy World EP is a glimpse of this. The three tracks still present the lovable hooks and sing-a-long tunes found in previous singles, but the songwriting has improved, making this EP much stronger than anything else they've released.
The lead single, "Be Your Everything," feels like a continuation of Love Drunk's "Two is Better Than One." As a ballad, this is a strong opener, proving as the song builds toward the end that the track is the strongest of the EP. "Life of The Party" explodes with a powerful country direction helped by the touch of Sugarland's Kristian Bush, who was a major influence on the full-length record. This upbeat track demonstrates Boys Like Girls' well-roundedness. The EP closes with "The First Time," a powerful track led by Johnson with an even larger chorus that will have fans singing along from the first chorus.
While the Crazy World EP is just a teaser for their full-length, fans get a taste of what they have to look forward to from Boys Like Girls. The band took a risk by delving out and taking their music in a new direction, but it ultimately benefited their sound. "Be Your Everything" is the strongest song on the EP and lyrically will make for one of Boys Like Girls' best to date.
Rating: 4/5