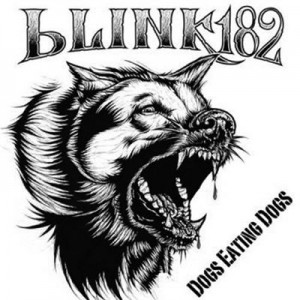 After years of waiting, Blink-182's last album Neighborhoods left many fans with a sour taste in their mouth because it was so different than the music they were used to hearing from the band. While the album certainly had its imperfections, there were some truly extraordinary elements within each track that the band was able to exploit in their most recent release, Dogs Eating Dogs. The band cleaned up their evolved and improved sound, took even more risks than before, and put together a much more unified and impressive release that is sure to win over the hearts of fans.
"When I Was Young" kicks the album off in a way that long-time fans might not expect, with more of an experimental vibe than the band's previous work. The track is comparable to the work of both (+44) and Angels & Airwaves, especially with its lengthy introduction and the incorporation of synth and electronic elements. "Disaster" has a similar feel to it, branching out from the band's traditional grungy pop-punk style and showing their collective evolution as musicians, which is only appropriate considering the band has been around for over twenty years now. Although the songs may take older fans by surprise at first, they are still catchy and energetic and are bound to grow on fans as favorites.
The title track of the EP reflects everything that was great about Neighborhoods, from its unfaltering energy to its matured and meaningful lyrics — not to mention that fans will go crazy for the vocal patterns that harken back to the band's self-titled album. The first single off the EP, "Boxing Day," is another nostalgic number and a ballad just as impressive as those of the band's past. Reminiscent of legends like "I Miss You" and "Adam's Song" for its intimate, slower-paced composition, the track emerged as a personal favorite for its infectious energy despite its arrangement and dark subject matter.
Closing track "Pretty Little Girl" is much less satisfying, however. The song starts off moderately strong, reflective of Angels & Airwaves' emphasis on synth and high energy, but it is not nearly as impressive as its predecessors. Things really take a turn wrong turn when Yelawolf steps in with a rap verse that is just plain confusing. It doesn't seem to fit in with the rest of the album, and it certainly does not better the track as a whole. At the end of the day, however, this one verse does not make or break the album, and it only proves that the band is willing to reach out of their comfort zones to take risks and diversify their music.
After making music together for so long, it can only be expected that a band's sound will evolve and change, for better or for worse. In Blink-182's case, they have progressed as musicians and managed to develop their sound into one that still stands out as unique and distinctive. The band has proven through this EP that, while they may not be as angsty or unruly as they were a decade ago, they are still the same musicians, simply growing up and moving forward with their sound. While some risks are more worth taking than others, Dogs Eating Dogs is a stellar EP that should have fans excited for the direction the band is taking.
Rating: 4/5