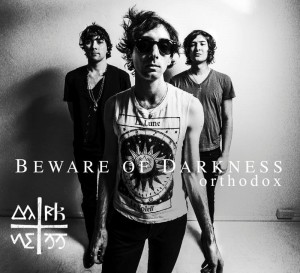 Alternative music has experienced a massive triumph recently. Bands like The Black Keys, Fun., Gotye, and Mumford & Sons stole the show at last year's Grammy Awards ceremonies, unlike the few past years' ceremonies which saw big wins for artist such as Taylor Swift and Lady Gaga. It's certainly a great time for alternative bands, and a great time for genuinely good music.
One new alternative band currently riding high on the alternative comeback since releasing their first EP almost exactly one year ago is California's Beware Of Darkness. In their short time together so far, the band has opened for some high-powered acts such as The Wombats, Tegan and Sara, Stone Temple Pilots, and Deftones to name a few. In July they will be supporting the Smashing Pumpkins' European tour and they recently performed the single "Howl" on Conan.
Their debut full-length record Orthodox will fully explain why such powerhouse bands have taken them on tour. Think The Black Keys mixed with The White Stripes with just a dash of a few less mainstream alternative rock bands (The Arctic Monkeys, Kasabian, and Jet came to mind while listening to several songs on this record).
The album opens with a new personal favorite song, "Howl." This bluesy, gritty track opens with a guitar riff that is sure to fire up the crowds at live shows. "Lay down, heaven can wait / You think you're right, I think you can change / Draw some blood, I'm not going hungry tonight / Won't it be fun to howl in the night?" guitarist/vocalist Kyle Nicolaides asks at the beginning of the song. The song flowers seamlessly into the following track, "Sweet Girl," which shows the diversity of song styling on the record with its 80's-sounding guitar riff. The track "Ghost Town," which starts with somber strings, feels like a classic Western song turned on its head, while "Heart Attack" feels like a modern British rock song, instantly reminding the listener of British rockers Arctic Monkeys.
As great as Orthodox sounds (and it sounds just as good over and over again), it is definitely one of those records that is meant to be heard live in the middle of a rowdy crowd on a hot Saturday night in some too-cramped club. The raw passion of this newly-formed, highly talented band bleeds through the record and infects their sound in the most pleasing way. Keep your eyes on these guys; there will certainly be bright things in their future.
Rating: 4.5/5
by idobi contributing writer Taylor Lima