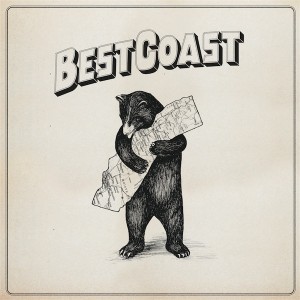 Best Coast's sophomore full length The Only Place is not for anyone looking for the usual distortion-latent, chill pop that has previously been expected of Bethany Cosentino and Bobb Bruno. That being said, this album is an attempt by the duo to deliver what they always do — fun, upbeat songs perfect for the summertime. While their last full length Crazy For You was driven by angst-filled lyrics about unrequited love and airy vocals, The Only Place showcases Consentino's honest, sweet voice with a wider variety of emotion. Unfortunately, the same variety is not heard in the songs themselves, and the album grows monotonous after an impressive start.
The album kicks off with the title track, an explosive summer song that introduces the sound of the record. The jubilant, upbeat music paired with lyrics like "We've got the ocean / Got the babes / Got the sun / We've got the waves" are sure to leave you wishing you were exactly where Consentino is as she sings. The only thing likely to make you stop listening after the opening track is the overwhelming need for an impromptu trip to the beach, but the follow up track, "Why I Cry," will make you glad you stayed — it matches the spirited energy of the opening track with lyrics that remind us that no one sings about being misunderstood better than Best Coast. While the overall upbeat feel of the album encourages listeners to kick back and enjoy the summer, songs like "My Life" and Do You Love Me Like You Used To?" interject with straightforward sadness, proving that almost any Best Coast track could serve as a break up ballad just as well as it could a summer anthem.
The first four tracks are diverse enough to warrant hope that every song that follows will be equally strong, but the album becomes bland and repetitive from "No One Like You" onward. At least half of the songs could have been removed as each track has at least one other that it could be discussed in conjunction with. For example, "Let's Go Home" comes late in the album but easily could have replaced the opening track and served the same purpose — the similarities in lyrics and tempo are impossible to ignore. The Only Place would have served better as an incredible EP instead of a pretty good full length.
While "sophomore slump" isn't the right phrase, it would be false to say that The Only Place shows significant progress for the band. However, the album should be enough to keep Best Coast fans happy while having more mass appeal than their previous work. Arriving just in time for summer, The Only Place offers effortless listening for those sunny days at the beach and the simple yet relatable lyrics that Best Coast does best.
Rating: 3.5/5