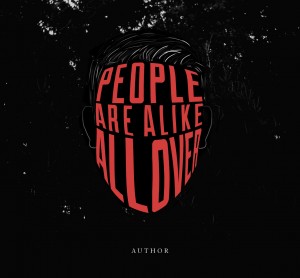 If you're anything like me, you probably cried when Copeland announced they were breaking up. (It's okay to admit it.) Frontman Aaron Marsh has been keeping busy, however, working with bands out of his home studio, and the latest project to emerge from behind those doors makes it worth all the tears. Rochester, MN's Author have teamed up with Marsh for their stunning debut EP People Are Alike All Over, which offers a breath of fresh air in a stale musical climate. With a debut release that plays like the musical lovechild of Copeland, This Day And Age, and Daphne Loves Derby, Author are perfect for both the nostalgic older crowd and a new generation of listeners who missed out on those bands' golden years.
Opening track "Separation" eases you into the EP, building from ambient noise to warm synths backed by gently marching drums to layers of dreamy vocals, guitars, and piano. With verses that feel like they're singing you to sleep before bursting into anthemic choruses, the song will have you falling in love with both sides of Author's music. "Salt" immediately calls to mind On the Strength of All Convinced-era Daphne Loves Derby with its soft vocals and simple arpeggiated guitar before vocalist Trevor Bartlett breaks out into a passionate yell midway through the song, repeating, "I'm okay here, I'm okay here," almost as if trying to reassure himself. The refrain carries on through the calm, pulsing outro of the song.
"Rest" features a familiar voice in an unfamiliar setting — Oceana's Brennan Taulbee lends his vocal cords to the second verse. With its slow, swinging tempo and haunting flute-driven melody, the song is a stark departure from the usual post hardcore of Taulbee's band, but his voice works surprisingly well in the different setting and adds a unique texture to the song. Drummer and backing vocalist Cameron Bartlett also takes the spotlight for part of the verse before the three vocalists and Marsh himself close the song together. "Doubt" brings the EP to a much too sudden end but doesn't waste a second of the time it does last, leaving you sitting in silence, fingers crossed for another song.
With People Are Alike All Over, Author give listeners everything they could ask for in a debut release. A welcome change in a scene sorely lacking the indie pop charm of the mid-2000's, the EP nods to the past while embracing the future. Marsh's masterful production helps bridge the gap between the two, adding polish in the right places while leaving it raw and stripped down in others. Now all we need is a Copeland reunion tour with Author opening — am I right, Aaron? I'll have my people call your people.
Rating: 5/5
Check out our exclusive premiere of "Separation" here!