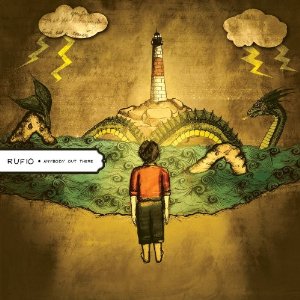 It was a sad day in 2007 when Rufio decided to call it quits.
But 2010 starts a new decade and has marked the reformation of one of the catchiest bands California has ever produced; ladies and gentlemen, Rufio is back!   More than three years after the last show on American soil and a full five years after the last full length from the Rancho Cucamonga band, this pop-punk crew is back.
Sporting a new lineup, the band released Anybody Out There through The Militia Group on July 27.   Terry Stirling and Taylor Albaugh have replaced Mike Jiminez and Jon Berry on drums and bass guitar, respectively.   This new-and-improved quartet is an excellent progression because Rufio has created a solid album, possibly the best of its career.   There is no "we are back and better than ever" feel to this album; it feels like this band never left.   It almost feels as if Rufio picks up where The Comfort of Home left off in delivering catchy choruses and meaningful verses.
The fast, catchy guitar riff that starts off "Little World" is reminiscent of old Rufio material but the sound is obviously poppier and has a slightly more produced sound than past releases.   Even though the band seems to be focused more on songwriting than solely showing that it can play instruments really fast, the catchy melodies are still very much prevalent on Anybody Out There.   This album reflects a revamped lineup and a shift more towards the pop than the punk aspect of the music this band does so well.
Rufio's penchant for including faint religious messages and undertones in its songs shines through on tracks like "The Loneliest", with lyrics such as "Show me a light above my shoulders and my head / cause I am sick of all the darkness and the red / Show me a change, a pace that I can just take in / And maybe tonight we'll just send out my home again."  This is just a sampling of the overall message of the album, which seems to be forgetting past negativity and moving forward with a positive attitude. (3.5/5.0)
The album can be purchased through iTunes here.