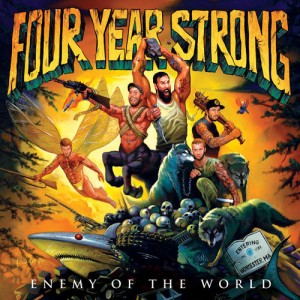 It certainly does not suck to be Four Year Strong right now. With an opening riff heavier than a granite curling stone, the Worcester, Mass. five-piece easy-core outfit has definitely matured past 2007's Rise or Die Trying with its new album.
After a few listens, it is quite obvious that this album is more dynamic than the debut on Decaydance. The lulls may be a bit duller but the riffs are heavier where they need to be without overdoing it, and massive gang vocal sing-a-longs inspire continous head-bobbing and toe-tapping.
The dueling call and return vocals of singers and guitarists Alan Day and Dan O'Connor have become nearly perfected in this second full length release of original material.   The guitar work of both frontmen has advanced beyond simple chord strumming into sometimes intricate melodies that sound incredibly layered at times. The subtle yet consistent synthesizer expertise of backup vocalist Josh Lyford assists drummer Jackson "Jake" Massucco in setting the tone for every song, while bassist Joe Weiss keeps the rhythms chugging along.   And when all three vocalists combine their efforts, a vocal onslaught few bands can match creates violently beautiful harmonies.
The band teamed up with top producer Machine, who worked with the crew on 2009's Explains It All, a 90s alternative rock cover album. This is the same Machine that has produced, mixed and engineered various albums and songs with pop, punk, rock and hardcore acts such as Fall Out Boy, Armor For Sleep, Boys Night Out, Clutch and Every Time I Die.   In the past few years, this maestro has harnessed the true abilities of these Red Sox fans, refining their already incredibly catchy sound.
Four Year Strong has even crafted some tunes on the pop side of things. Of course the pop side of Four Year Strong's audio spectrum errs on the side of hardcore more than traditional pop music. This may be due to the aforementioned cover album that sharpened a hardcore edge onto existing pop songs.   The possible 311 homage "Flannel is the Color of My Energy" could one day be considered for the couples' skate at the local roller rink, with lyrics like "I don't want to live a day / Without a piece of you to keep me company."
All of the songs on this album are crafted for live performances, which they receive on the current tour in support of the record. Specifically, the band has been previewing a trio of sweet new jams: "It Must Really Suck to be Four Year Strong Right Now," "What the Hell is a Gigawatt?" and "Wasting Time (Eternal Summer)." All are much more entertaining than songs from the first disc when heard from a mosh pit, if that is at all possible.
(4.0/5.0)
Enemy of the World can be purchased online through iTunes.